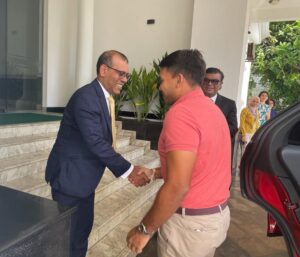 By Easwaran Rutnam
Despite strong denials, a Maldivian journalist has insisted that former Prime Minister Mahinda Rajaoaksa and his family were planning to flee to the Maldives with the assistance of Maldives Speaker Mohamed Nasheed.
The Maldives Journal had reported that the Speaker of the Maldivian Parliament, President Mohamed Nasheed, was presently brokering safe passage for beleaguered former Prime Minister of Sri Lanka, Mahinda Rajapaksa, and his family.
However, both Nasheed and the family of the former Prime Minister denied the claims.
"The story in Maldives Journal, a blog in the Maldives, is a complete fabrication. Through their lies, the people behind it do a grave disservice to the profession of journalism," Nasheed tweeted.
The Maldives Parliament also insisted that Nasheed was in Sri Lanka to offer assistance to the country and not get involved in any private matters.
"Once again the media is sensationalizing things just to attract more readers,this time the #MDV audience as well as the #LKA ones. My father has no intention of leaving #LKA & there is no truth of any plans of him moving to #MDV or buying any villa there," Mahinda Rajapaksa's son Namal Rajapaksa tweeted.
Journalist Ahmed Azaan claimed that Nasheed had copies of the passports of Namal Rajapaksa and his family.
"I never gave a copy of my PP to any MDV official. My PP is with the fort magistrate in CMB it is impounded & I am currently on a travel ban. If I were to travel I wud need the assistance of #LKA officials not #MDV," Namal Rajapaksa responded.
However Ahmed Azaan continued to maintain that Nasheed had copies of the passports of Namal Rajapaksa and his family.
The Maldives Journal claimed, quoting a senior Maldivian government official as saying that after he had resigned, Mahinda Rajapaksa had called Nasheed. In this call, Rajapaksa had reportedly requested Nasheed to make arrangements so that his family can stay in the Maldives until the situation in Sri Lanka calms down.
According to The Maldives Journal Mahinda Rajapaksa initially had a plan to settle his family in a property of Maldivian tourism tycoon, Champa Muhammad Moosa (Uhchu). Moosa is known to have close ties with the Rajapaksas.
As an alternative, Nasheed had reportedly proposed that the Rajapaksas purchase a private residence in Soneva Fushi, a property owned by India's Sonu Shivdasani. Sonu is a close associate of Nasheed. (Colombo Gazette)
Once again the media is sensationalizing things just to attract more readers,this time the #MDV audience as well as the #LKA ones. My father has no intention of leaving #LKA & there is no truth of any plans of him moving to #MDV or buying any villa there.

— Namal Rajapaksa (@RajapaksaNamal) May 24, 2022
Well then how do you explain this? Why did @MohamedNasheed give your passport copy to a govt official & ask to make necessary arrangements for travel? @roelraymond @Jamz5251 @munza14 pic.twitter.com/eJp3XX4Bfh

— Ahmed Azaan (@axanner) May 24, 2022