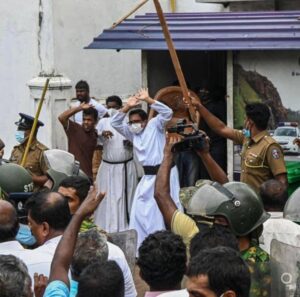 The Bar Association of Sri Lanka (BASL) has proposed a travel ban on those involved in the attack on peaceful protesters at Galle Face.
BASL President Saliya Pieris said that urgent action is immediately required on the part of the authorities to restore public confidence and restore peace.
For this purpose, the BASL demands the immediate arrest according, to law, of all persons who instigated, conspired to unleash the violent mob from Temple Trees and participated in the said violence – irrespective of the positions they held in the Government or of their family connections.
The BASL also calls for immediate travel bans be obtained against such persons by the Police.
The BASL is also calling for a comprehensive investigation into the attacks on peaceful protesters opposite Temple Trees and at Galle Face.
The BASL also called for an immediate halt to the violence unleashed on the persons and property of individuals and on State Property and that the perpetrators of such violence too to be investigated, arrested and dealt with according to law.
An independent inquiry into the failure of the authorities including the Sri Lanka Police to prevent and restrain the mob violence including that which was unleashed from Temple Trees, has also been called for. (Colombo Gazette)