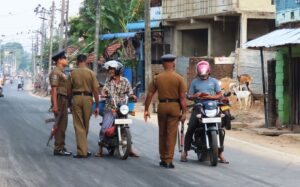 The islandwide curfew was temporarily lifted at 7am today and will be reimposed at 2pm.
The curfew will be lifted again at 6am tomorrow (Friday).
The curfew has been in place since Monday after violent mobs attacked GotaGoGama.
The Ministry of Defence has issued shoot on sight orders to prevent further violence.
The Police and military have been deployed in Colombo and other parts of the country.
Mobs have been on the rampage attacking properties linked to the Rajapaksa family and those close to them.
Properties owned by ruling party politicians have also come under attack. (Colombo Gazette)