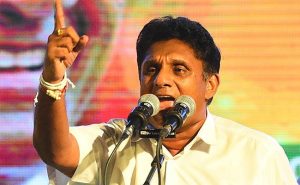 The Samagi Jana Balawegaya (SJB) has indicated its willingness to form a new Cabinet, under strict conditions.
The SJB has informed President Gotabaya Rajapaksa that it will agree to form a new Cabinet based on four conditions.
The conditions are that President Gotabaya Rajapaksa must step down within a stipulated time frame, he must not hamper the activities of the New Government, he must agree to abolish the Executive Presidency and once the situation in the country stabilises the people must be given an opportunity to form a new Government.
The SJB had earlier refused to be part of the new Government until President Gotabaya Rajapaksa resigns.
SJB Leader Sajith Premadasa had noted earlier that the key demand of the public is that President Gotabaya Rajapaksa resigns.
As a result, he had said that the SJB will not join an interim Government with Gotabaya Rajapaksa as President.
President Rajapaksa is negotiating with several political parties to form an all-party Cabinet following the resignation of Mahinda Rajapaksa from the post of Prime Minister. (Colombo Gazette)