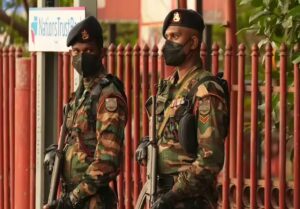 President Gotabaya Rajapaksa has reissued a gazette notice ensuring the military remains on standby to maintain law and order.
The gazette was issued under Section 12 of the Public Security Ordinance (Chapter 40).
The President issued the gazette notice continuing to keep the Armed Forces ready to maintain public order.
The gazette has been issued on the 21st of every month since the Easter Sunday attack.
The State of Emergency imposed by President Gotabaya Rajapaksa earlier this month, has lapsed with effect from last night.
The President's Office said that the State of Emergency lapsed last night (20th May).
President Gotabaya Rajapaksa had declared a State of Emergency on 6th May.
The State of Emergency gave the security forces sweeping powers to maintain law and order. (Colombo Gazette)