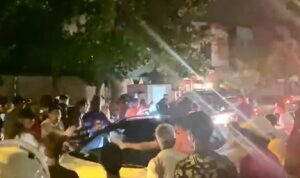 By Easwaran Rutnam
At least two motorists were attacked during a demonstration staged in Slave Island last night.
Area residents had closed the entire Slave Island junction and refused to allow motorists to go past.
Men, women and children stood in the area protesting against the Government and President Gotabaya Rajapaksa.
A heated exchange took place between two motorists and the demonstrators.
The demonstrators attacked the motorists damaging their vehicles and forcing them to reverse and leave.
The incident occurred despite the presence of a few Police officers in the area.
A tense situation prevailed at the location. (Colombo Gazette)
A heated exchange involving two motorists and protesters resulted in 2 vehicles being damaged in Slave Island #SriLanka #Lka #SlaveIsland #CrisisLK pic.twitter.com/i8FtBe4vRg

— Easwaran Rutnam (@easwaranrutnam) May 8, 2022