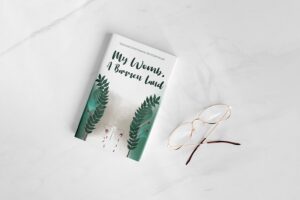 Poetry is a raw expression. It germinates at the depths of a person and culminates at the height of an emotion. But neither all poets nor all poems can balance this raw quality. And that is what makes collections like My Womb, A Barren Land feel like a breath of fresh air, like the scent of earth after the first summer rains. My Womb, A Barren Land is devastating. To say otherwise would be to undermine the life that pumps throughout the book. The poems start and end one after the other at the most candid of human emotion, of memory, of loss, and of melancholy. There is brutal honesty in the words that form the collection of poems which do not hold back the tipping points of life, and it is this bold engagement with private and collective truths which make the reading of the poems so endearing and humbling.
Nisansala Dharmasena Bertholameuze; a lecturer in Telecommunication and ICT at SL.T.E.S, with two diplomas each in Journalism (University of Colombo) and Translation and Interpretation (University of Kelaniya) does not hoist any glitches in her unraveling of human emotion and memory. In poems like He Arrives Sharp at Nine and As You Flip Through the Pages of Me in this collection, each word is like a beat of the heart. To read her poems is like an encounter of all of our selves in the past, present, and what we imagine for us in the future. Memory aches in her poems, and the beautiful simplicity in handling past traumas in poems like Unmarked Graves in Unmarked Cemeteries and As Darkness Descended exposes Bertholameuze for the promising poet she is becoming; a 21st century Bronte and a Rossetti. Intimate emotions are handled with such grace, that where one expects a prick, Bertholameuze's poems are a gentle touch from a feather. But the depth of the emotion and the subject remains. To handle such weight with bearable grace is all the more enchanting and haunting about these poems. Bertholameuze offers a sanctuary for modern lovers of poetry to come to terms with their most private emotions.
Yashodara Kaluarachchi skillfully captures the emotions at the end of her brushstrokes, giving birth to palpable illustrations which follow the poems. Poetry works with emotion, and emotion, especially those of loss, memory and nostalgia, is abstract in ways that often elude visual culture. Kaluarachchi's illustrations convey this abstractness, yet at the same moment, give shapes and colors to the emotions in My Womb, A Barren Land.
To read My Womb, A Barren Land is like going on a pilgrimage. It is like an escape into a retreat where one searches for and reconciles with self. In a society where crime rates increase every day and emotions are shrugged off, bottled, and stored away with no outlet to face them, Bertholameuze offers My Womb, A Barren Land like a balm to calm the tensed minds. With this publication, Queen of Sea Publishers proves that they will not fail their readers and will quench the thirst for quality reading material. The collection will undoubtedly be therapeutic for anyone who opens its pages.