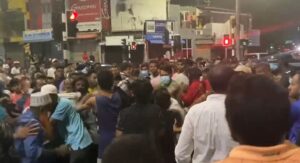 By Easwaran Rutnam
Residents forced open the Baseline Road in Dematagoda following a clash with protesters last night.
The protesters had blocked the Baseline Road by placing gas cylinders and other objects and obstructed vehicular movements.
They refused to open the key road intersection until gas is provided.
The Dematagoda Police made several attempts to negotiate a settlement with the protesters but the attempts failed.
A Police source said that they had assured the protesters that gas will be made available to them on Thursday but the protesters refused to budge.
The protesters even turned back a fuel bowser which was heading to a fuel station in the area.
However, a group of residents suddenly pounced on the protesters and forced open part of the road.
They insisted that closing the road was only further affecting the public on the streets.
Minor clashes later erupted as the residents forced open the entire intersection. (Colombo Gazette)
Violence broke out in Dematagoda on the Baseline Road before the road, which was closed by protesters, was forced open by area residents #SriLanka #lka #CrisisLK #ProtestLK pic.twitter.com/5zDAQ7YPIZ

— Easwaran Rutnam (@easwaranrutnam) May 8, 2022