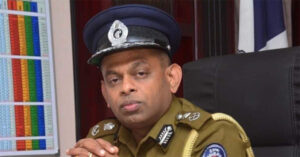 Senior Police DIG in charge of the Western Province Deshabandu Tennakoon was questioned by the Criminal Investigations Department (CID) for several hours yesterday (Tuesday).
The Senior DIG was questioned for nearly 10 hours yesterday from afternoon till night.
The Attorney General (AG) had directed the Inspector General of Police (IGP) to arrest the suspects, including Members of Parliament (MP), accused of being involved in the mob violence on 9th May.
The AG has told the IGP to arrest the MPs, including former Minister Johnston Fernando, if there is sufficient evidence against them.
Among the suspects named by the AG are MPs Johnston Fernando, Sanath Nishantha, Sanjeeva Edirimanne and Milan Jayatilleke as well as Senior DIG in charge of the Western Province, Deshabandu Tennakoon and Dan Priyasad. (Colombo Gazette)