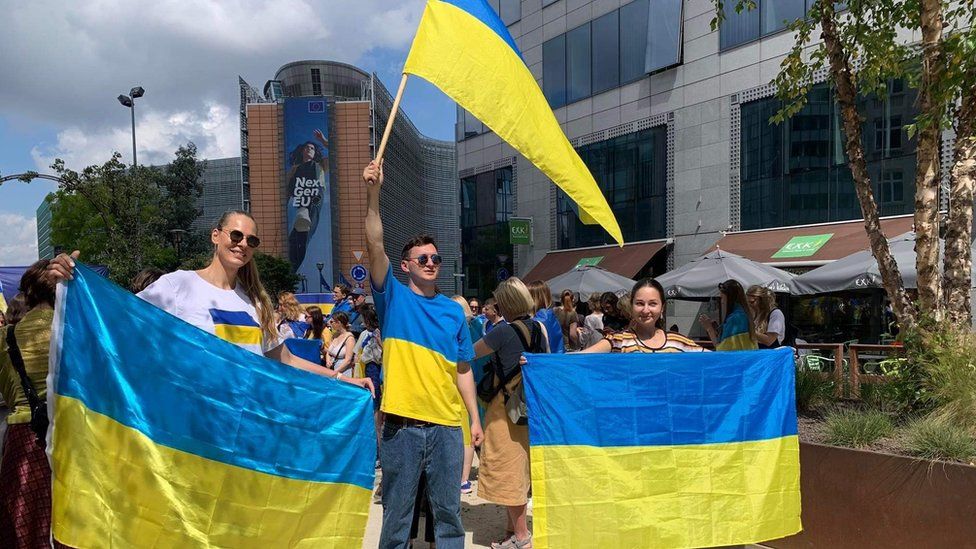 Ukraine and Moldova have both been granted EU candidate status, President of the European Council Charles Michel has announced.
"Today marks a crucial step on your path towards the EU," Mr Michel said, describing the European Council's decision as a "historic moment".
Ukraine applied days after the Russian invasion in February, and the process moved at a record speed.
Its president, Volodymyr Zelensky, hailed Thursday's decision.
"It's a unique and historical moment in UA[Ukraine]-EU relations…" he tweeted. "Ukraine's future is within the EU."
The mayor of the Ukrainian capital Kyiv, former boxer Vitali Klitschko, paid an emotional tribute to his fellow citizens resisting the invasion.
"We paid a very high price for this chance," he wrote on Telegram. "Yes, we still have a lot to do on the way to the European family.
"But I am sure that Ukraine will do everything necessary, fulfil all the conditions and pass the necessary laws. Because otherwise our state has no future. Indeed, our best defenders are dying for it."
Candidate status is the first official step towards EU membership. But it can take many years to join and there's no guarantee of success.
The European Commission president said the accession process would be "merit-based" and "by the book", and that formal negotiations would not begin until conditional reforms are carried out. These include bolstering the rule of law, and fighting corruption. The Commission is due to take stock at the end of 2022.
The step is undoubtedly a big moment for Ukraine, and a popular one.
While Moldova's application was accepted, a third former Soviet state, Georgia, has still to qualify for candidacy.
Mr Michel said that the Council recognised the country's "European perspective" and was "ready to grant candidate status once the outstanding priorities are addressed".
European Commission President Ursula von der Leyen said all three countries were "part of our European family".
"It strengthens Ukraine, Moldova and Georgia, in the face of Russian imperialism. And it strengthens the EU. Because it shows once again to the world that we are united and strong in the face of external threats."
President Zelensky spoke of his country's desire for candidate status in almost every speech over the past week. He knows that starting down the path of EU membership will permanently shift Ukraine out of Russia's sphere of influence.
Lithuanian President Gitanas Nauseda told reporters the EU's political backing was very important for Ukrainians: "This is the least we can provide for them."
Outside the summit building, activist Anna Melenchuk from Kyiv told the BBC: "People I know are dying every day at the hands of Russian soldiers. This is why it's so important to have the European Union's support."
It was pro-EU protests that ousted Ukraine's Russia-backed President Viktor Yanukovych in February 2014.
That event in turn led to the annexation of Crimea and the separatist uprisings, the events that Ukrainians see as the start of the current war. (Courtesy BBC)