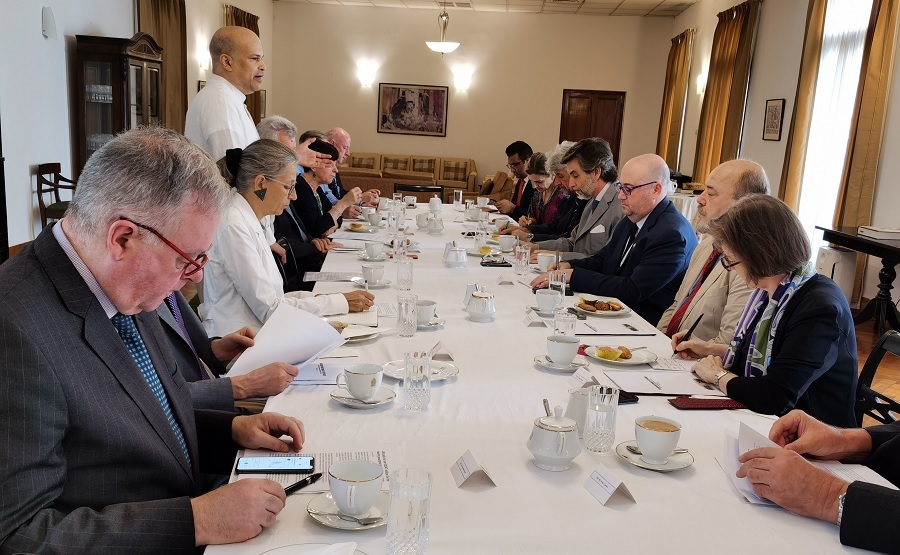 Sri Lanka has sought the assistance of the European Union in the economic recovery process.
As part of the ongoing engagement with 94 concurrently accredited Diplomatic Missions to Sri Lanka from New Delhi, High Commissioner of Sri Lanka to India Milinda Moragoda hosted a group of European Heads of Mission on 21 June 2022 and briefed them on the present developments in Sri Lanka. The meeting was held at the official residence of the High Commissioner.
The group included 14 Ambassadors and one High Commissioner who are concurrently accredited or designated to Sri Lanka from New Delhi. This was the third time that High Commissioner Moragoda interacted with concurrently accredited Heads of Mission in this manner since assuming office in New Delhi.
Ambassadors of Austria, Belarus, Belgium, Bosnia and Herzegovina, Croatia, Czech Republic, Denmark, Ireland, Luxembourg, North Macedonia, Portugal, Serbia, Slovenia, Ukraine and the High Commissioner of Malta attended this meeting.
Welcoming the Heads of Mission, High Commissioner Moragoda expressed his keenness in further strengthening Sri Lanka's relations with their respective countries and pledged all possible support of his Office to them in carrying out their duties.
He briefed the Heads of Mission on the current economic and political developments in Sri Lanka, in particular the plans for the stabilization and recovery of the Sri Lankan economy. The High Commissioner stressed the importance of bridging finance until the IMF programme would be in place, and requested the assistance of the Heads of Mission in the recovery process. A detailed discussion followed, with the Heads of Mission posing several questions to High Commissioner Moragoda.
High Commissioner Moragoda also stated that he is coordinating with the relevant authorities in Colombo to organize a credentials ceremony for the concurrently accredited Heads of Mission- designate to present their Letters of Credence at the earliest.
The High Commission of Sri Lanka in New Delhi functions as the main coordinating point between the concurrently accredited 94 Foreign Missions and the Foreign Ministry of Sri Lanka.
All correspondence between these Missions and the Foreign Ministry passes through the High Commission, while it actively engages with the Missions covering an entire gamut of bilateral relations, which include political, economic, consular as well as cultural activities. In particular, Sri Lanka seeks support for its candidatures and resolutions at multilateral fora, through the Heads of Mission of relevant Member States based in New Delhi. (Colombo Gazette)