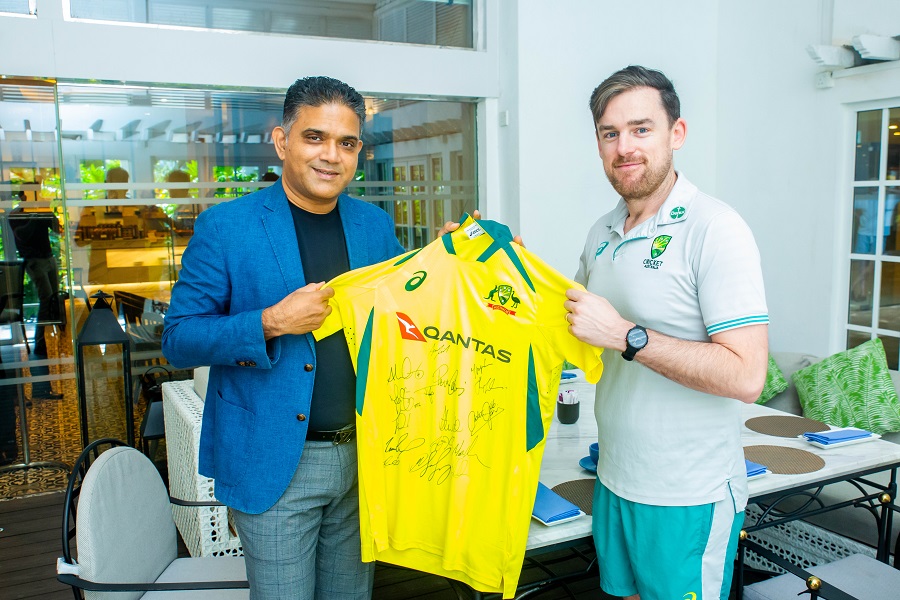 Cinnamon Grand Colombo hosted the Australian Cricket Team during their recent tour of Sri Lanka. The team enjoyed the delightful facilities at the hotel during their stay in the island as they played a series of 3 One Day International matches against the Sri Lankan Cricket Team. On behalf of the nation, Cinnamon Grand Colombo expressed its gratitude to the Australian team for visiting Sri Lanka despite the ongoing economic crisis and considers it an honour that they chose to stay at the hotel with their families during their Colombo matches and experience true Sri Lankan hospitality. Undoubtedly this experience will further strengthen the bond between the two countries as after all, cricket is a unifying force. Click here to enter text. As a token of appreciation for selecting Cinnamon Grand Colombo as a hospitality partner, the entire team was gifted with complimentary gift packs.
Reflecting the enthusiasm for playing host to the team, Kamal Munasinghe, Area Vice President for Cinnamon's City Hotels and General Manager of Cinnamon Grand Colombo said, "What an exciting time it has been for the entire team at Cinnamon Grand Colombo to host the Sri Lankan National team and the touring Australian team. I wish to place on record my sincere appreciation to the Sri Lankan Cricket Board for working very hard to make this tour a reality. We thank the Australian team and their management for visiting our country despite the prevailing challenges and for being great brand ambassadors and promoting Sri Lanka during this difficult time. We look forward to hosting more cricket teams in the future."
This experience of bonding and enjoyment was also echoed by members of the Australian Cricket Team. Batsman Usman Khawaja commented: "I've been to Sri Lanka four times and stayed at Cinnamon Grand Colombo many times during the 2005-06 World Cup. Sri Lanka is awesome, the people are great. Cinnamon Grand Colombo has always been a great hotel so I really enjoy just being in this area and enjoying all its great facilities. What I love about coming to Sri Lanka is the people – I've always found Sri Lankan people to be really hospitable. Always welcoming, always with a smile on their face."
Batsman Nathan Lyon added, "A lot of memories come flying back because I stayed at Cinnamon Grand Colombo in 2011 and 2016 and not many things have changed, which is nice. The pool is still great and it's good to be outside and enjoy a drink or some good food. The experience in Sri Lanka is always great because the people are always so nice here, especially here at Cinnamon Grand Colombo. Here we always feel so welcome! For any international travellers keen on visiting, I would say Sri Lanka is pretty safe to come out here and see the culture and people."
The grace and hospitality extended to the Australian Cricket Team and to tourists who have placed their trust in the destination and travelled to Sri Lanka, the island will always be warm and welcoming no matter the challenges that its people are facing right now. Buoyed by the success of the Sri Lanka-Australia tournament, the Pakistan Cricket Team is now also in Sri Lanka, being hosted by none other than the favourite of cricketing champions – Cinnamon Grand Colombo.
Cinnamon Grand Colombo is the flagship city hotel under Cinnamon Hotels & Resorts, The experiences available at the hotel from diverse culinary offerings, exceptional and authentic Sri Lankan hospitality and facilities and services that are attuned to your every need, truly stand to change perceptions of an ordinary business travel experience into new inspiring stories for guests.