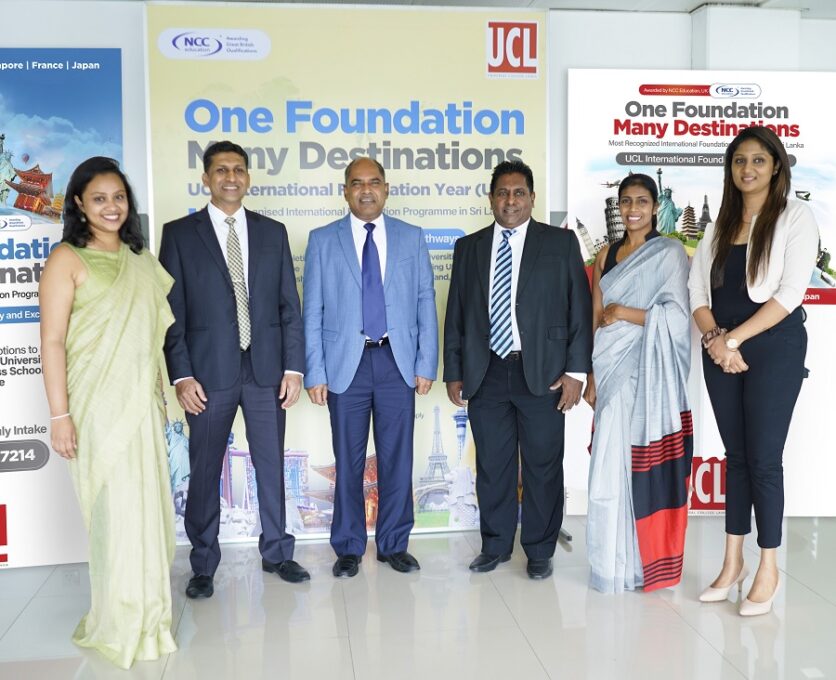 Sri Lanka's premier transnational higher education provider, Universal College Lanka (UCL) announced the launch of the UCL International Foundation Year (UIFY) – Global Pathways to students who wish to pursue international education after their Ordinary Level. The UIFY programme awarded by NCC Education UK, is the most recognised international Foundation Programme in Sri Lanka that provides a pathway to the widest choice of universities and business schools around the world in countries such as USA, Canada, France, UK, Ireland, New Zealand, Germany, Japan, Scotland and many more. Its scope and reach are timely and gives a great impetus to parents and students who want to leap-frog into the future without wasting any precious time.
"I am pleased to note the remarkable progress in the partnership with NCC Education, UK over the years. The introduction of the Global Edition of the UIFY Programme will enable students to gain access to new destinations around the world and for us to strengthen our global network with partnerships developed with Valparaiso University – USA, Lakehead University – Canada and ESC Clermont Business School – France" stated Dr. Harsha Alles, Director at this momentous occasion.
"In response to emerging demand for internationally recognised foundation programmes from discerning parents, we are delighted to offer value-added programmes such as UIFY and UIFY Global Pathways to our growing portfolio. Whilst we forge ahead as the premier quality transnational higher educational provider, our students will be empowered to have a host of exciting opportunities to pursue their dreams and excel globally", opined Mr. Gihan Silva, CEO, UCL.
Dr. Dhananjay Kulkarni, Dean, UCL, stated, "UIFY Global, as the name itself implies is a pre-university qualification which is ideally suited for students wanting to begin their higher education early after O-levels and complete their undergraduate study at reputed Universities around the world. It is not only a globally accepted qualification, but also one of most widely accepted qualification across a range of different Universities, both in the top tier and middle tier, which gives flexibility to students/parents to choose a destination based on academic performance, ranking, field of study, and financial strength. Due to the economic challenges, having multiple choices will certainly help students and parents while making decisions."
UIFY- Global Pathways would be a popular choice for students in Sri Lanka as UIFY Global students will not only study the standard subject modules, but also additional modules offered by UCL which will orient the students for international study and give confidence to excel abroad. This includes country specific orientation, cultural workshops, language support, visa guidance, travel and accommodation support, introduction to university student body etc. These will be customised based on student choice to transfer to USA, Canada, France, or UK, making it one of the most unique programmes offered in Sri Lanka. It's a one-stop shop for young Sri Lankan students aspiring to study abroad, the Dean added.
UCL International Foundation Year awarded by NCC Education, UK
"As an NCC Education Accredited Partner Centre, Universal College Lanka (UCL) provides high quality delivery of the Level 3 IFD programme (UCL International Foundation Year) and offers students the full support that they need to achieve their potential. As an Awarding Organisation, we are very happy to work in partnership with UCL who deliver our programmes to such a high standard to the students in Sri Lanka", states Rebecca Cornes, Business Development Manager of NCC Education.
NCC Education is proud to state that the qualification a truly global pathway programme as it provides entry to over 90 universities and institutions worldwide. Students can apply to any UK university through UCAS or directly through the university's international office, and they can also apply to universities globally. Graduates of the NCC Education also have the added benefit of guaranteed entry to courses at several universities in the USA, Canada, France, UK and Ireland.
The UIFY and UIFY Global Pathways are Foundation programmes are one-year pre-university qualifications developed by UK academics to prepare students after ordinary level to progress successfully to undergraduate degree programmes in the UK or elsewhere in the world. The students have the opportunity to gain subject specific knowledge along with developing their English language skills, writing in an academic context and cultural awareness. The UCL International Foundation Year graduates can pursue degree programmes in Business, Computing/ IT, Engineering and Health Science steams.
Being the leader in the provision of superior quality International Foundation Programmes in Sri Lanka, UCL offers discerning students the best choice of degree pathway programmes to universities and business schools internationally leading to modern, trendy and exciting global career opportunities.
We encourage the students after O/Ls to reach us for more information on the UCL International Foundation (UIFY) year and its local completion pathway or the global pathway to many reputed universities around the world. Call us on 077 411 0000 or contact us by e-mailing info@ucl.lk for more information.