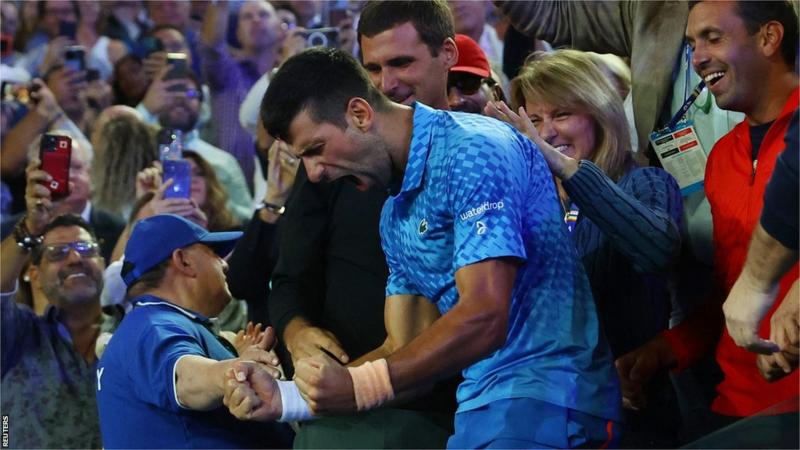 Novak Djokovic won a record-extending 10th Australian Open and a record-equalling 22nd Grand Slam men's title by using all of his talent and nous to see off Stefanos Tsitsipas.
Serbia's Djokovic started strongly and dug deep in the second set on his way to a 6-3 7-6 (7-4) 7-6 (7-5) victory.
The 35-year-old, who draws level with Rafael Nadal in major wins, will return to the world number one ranking.
Greece's Tsitsipas, 24, continues his wait for a first Grand Slam triumph.
"I have to say this has been one of the most challenging tournaments I have ever played in my life considering the circumstances, not playing last year, coming back this year," said Djokovic.
"I try to pinch myself and really live through these moments. It's a long journey. Only the team and the family knows what we have been through in the last four or five weeks.
"I would say this is probably the biggest victory of my life, considering those circumstances."
Tsitsipas lost to Djokovic in his first major final at the 2021 French Open after relinquishing a two-set lead but, this time in Melbourne, he was always chasing the match.
In the few precious opportunities he had to threaten Djokovic – notably a set point to level the match at one set all – the third seed was unable to take them.
Djokovic has not lost at Melbourne Park since 2018 – a streak spanning a record 28 matches in the men's singles.
He has regained the crown which he was unable to defend last year after being deported from Australia following a row over his Covid-19 vaccination status.
Tsitsipas showed resilience to save two championship points but Djokovic took his third chance – this time on his own serve – when his opponent hit a return long.
Djokovic turned to his team and family members – including mother Dijana, although father Srdjan did not appear to be present – standing motionless before pointing to his head and his heart.
After climbing into the box to celebrate with them, he broke into tears as the magnitude of his achievement hit him and continued sobbing under his towel when he returned to his chair.
In the build-up to Sunday's final, Djokovic said he did not feel any different "in terms of stress" as he aimed to create more history and move closer to cementing his place as the greatest player of all time.
While such a title remains subjective and a topic for debate, the defining factor remains the number of major titles.
Djokovic moved level with 36-year-old Nadal – and now only trails 24-time champion Margaret Court and Serena Williams, who has 23, on the women's side – and has showed in the past two weeks he has the capacity to win many more.
Mentally and physically, his ability is showing few signs of diminishing.
He had been hampered by a hamstring injury at Melbourne Park and also had to deal with controversy surrounding his father Srdjan before Friday's semi-final against American Tommy Paul.
But time and time again he shows the stoicism to overcome difficult circumstances and produce in the biggest moments. This was the latest example.
A confident and collected start against Tsitsipas – targeting the Greek's one-handed backhand, which can be beautifully effective but also liable to break down – set the platform for Djokovic to comfortably claim the opening set.
However, like in his semi-final win against Paul, his mood turned and a spell of tetchiness almost allowed his opponent back into the contest.
After becoming animated and regularly chuntering to his team, Djokovic dug in to stave off the set point with a stunning inside-out forehand winner.
Locking in again saw him dominate the tie-break for a two-set lead and from that point it looked unlikely he would lose his grip on the match.
While Tsitsipas broke in the first game of the third set, he could not consolidate the advantage and Djokovic again showed his mentality in the tie-break to complete another masterful win.
The match was played out in a colourful and raucous atmosphere – inside and outside of Rod Laver Arena – as thousands of Serbian and Greek fans descended on Melbourne Park.
The two European nations have large communities in the Australian city, adding further emotion to an occasion which meant so much to both players.
Not only was a Grand Slam title on the line at Melbourne Park, but so too was the world number one ranking.
Djokovic's victory ensured he extended his own record of being the top-ranked player and he will be there for a 374th week when the latest rankings are released on Monday.
Tsitsipas was looking to fulfil his childhood dream by lifting the trophy and become the 29th player to be the number one since the ATP rankings were introduced in 1973.
Instead he will rise to number three with Djokovic overtaking Spanish 19-year-old Carlos Alcaraz, who drops to number two after missing the tournament through injury. (Courtesy BBC)