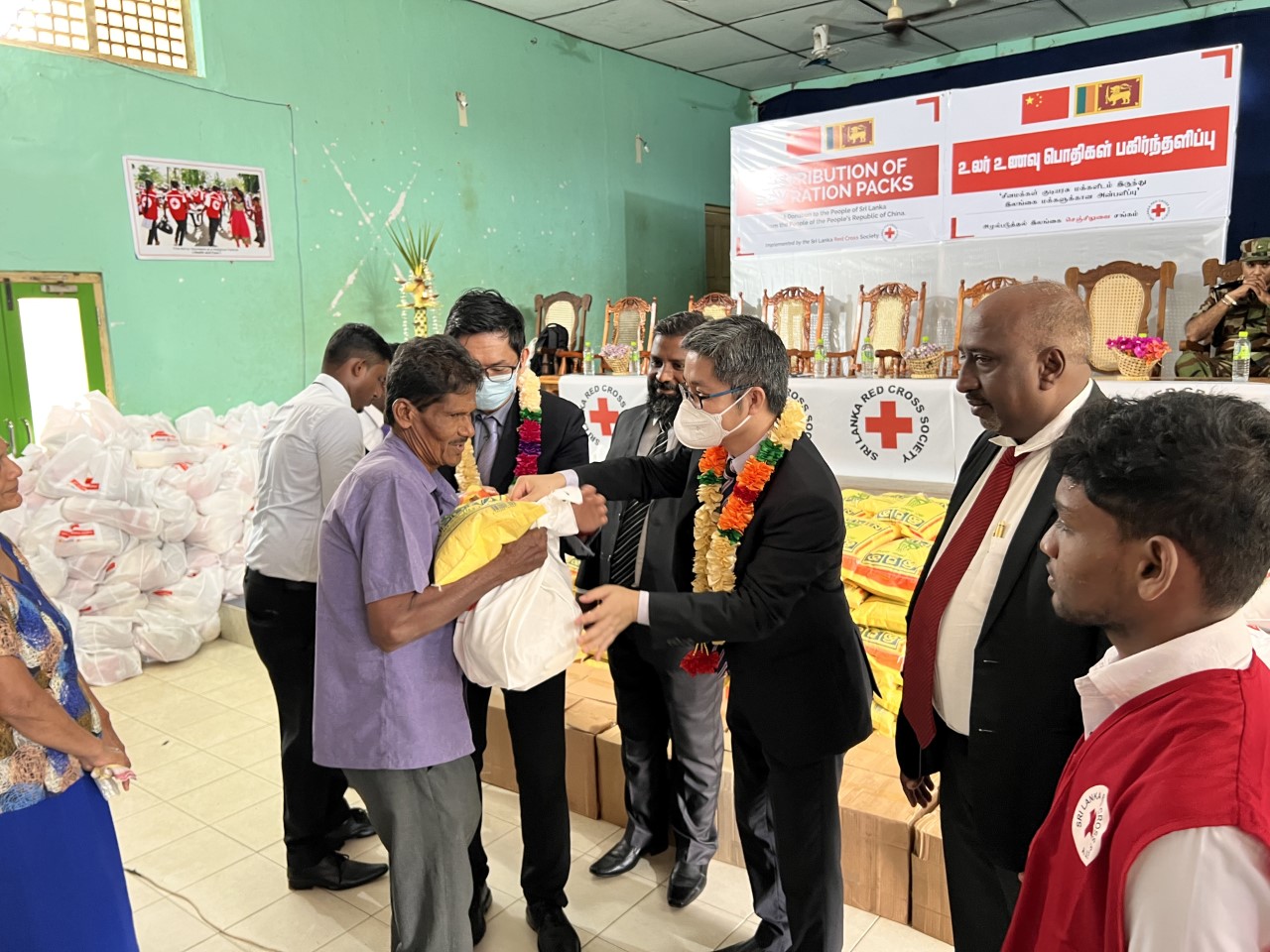 The Sri Lanka Red Cross Society (SLRCS) and the Red Cross Society of China have joined hands to help over 9,000 vulnerable families in Sri Lanka.
The programme aims to provide additional assistance to help people reduce their daily food expenses, with a special emphasis on children and the elderly.
The country's economic crisis has affected many households, causing chaos in many lives, and SLRCS has stepped forward to distribute food parcels among low-income families affected by the food crisis in selected districts where food and nutrition gaps have been identified. Furthermore, during the beneficiary selection process, women-headed households and children living with their grandparents were prioritised.
The ongoing programme, which was supported by the Red Cross Society of China and coordinated by the Embassy of the People's Republic of China in Sri Lanka, resulted in more than 9,000 vulnerable families receiving dry ration food packs, which ultimately contributed to improving the beneficiaries' nutrition conditions.
Chairman of the Sri Lanka Red Cross Society, Jagath Abeysinghe said: "It is with tremendous pleasure I express my gratitude to our colleagues in China, their generosity and support rendered during a challenging time for our nation. Sri Lanka will overcome these obstacles because we have friends like colleagues at the Red Cross Society of China, who continue to assist us. SLRCS will always be at the forefront of assisting people in difficult times."
The donation worth of USD 190,000 took place in the districts of Colombo, Gampaha, Nuwara Eliya, Kandy and Matale in the areas of Homagama, Kollonnawa, Hanwella, Biyagama, Dompe, Mirigama, Katana, Gampaha, Mahara, Divulapitiya, Negambo, Nuwara Eliya, Haguranketha, Walapane, Nuwara Eliya, Abagamuwa, Harispaththuwa, Pasbage, Korale, Gangawata, Koralage, Panvila, Delthota. Gampola, Pathadumbara, Weligamuwa, Damdulla, Galewela, Rattota, Ukuwela, Watagoda, Madawala, Matale -1, and Matale -2 are among the districts represented.
A single dry-ration pack provided contained 5kg of rice, 1kg of Sugar, 1kg of dhal, 2 kg of wheat flour, 200g of tea leaves, 500g dry sprats, 425g canned fish, 1 liter of coconut oil and 1kg of chickpeas.
Distribution plan was curated by SLRCS staff and volunteers from the district branches in consultation with relevant government institutions, and it was carried out in accordance with a pre-planned distribution schedule. (Colombo Gazette)