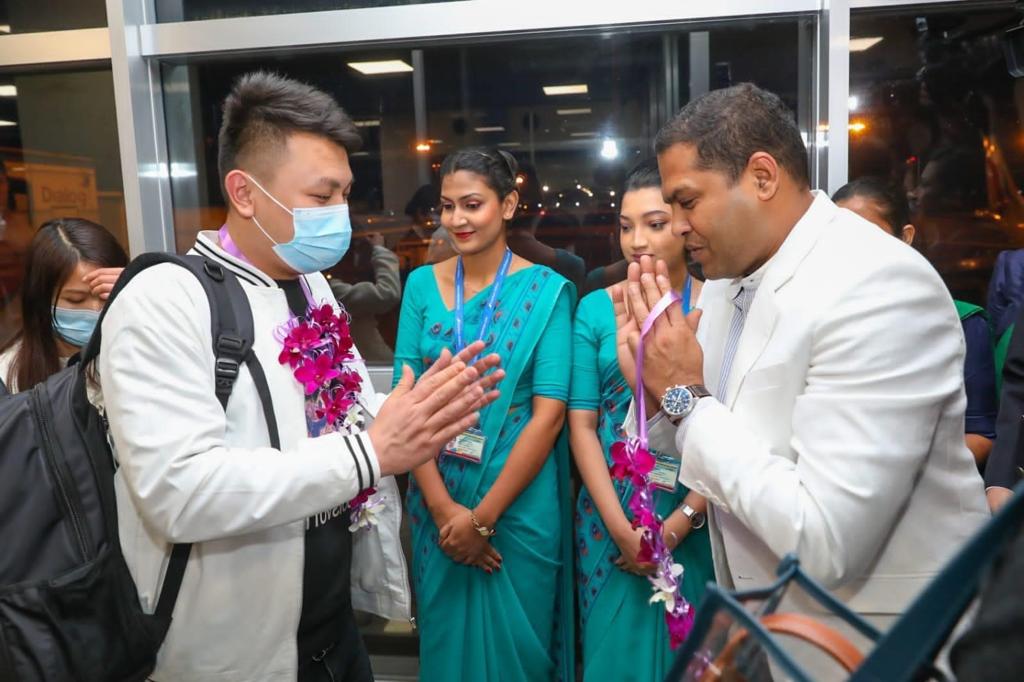 The first group of post-pandemic Chinese tourists arrived in Sri Lanka late last night, the Tourism Ministry said.
Over 100 tourists were on the SriLankan Airlines flight carrying tourists from Guangzhou
Tourism Minister Harin Fernando and the Chinese Ambassador to Sri Lanka Qi Zhenhong welcomed the group at the Bandaranaike International Airport.
China resumed outbound group travel to a selected group of countries, including Sri Lanka.
SriLankan Airlines is set to renew its commercial operations to China in the first week of April 2023, with a thrice weekly service each to Shanghai, Beijing and Guangzhou as China reopens its borders.
China was a leading source market for inbound tourism to Sri Lanka and one of SriLankan's premier leisure traveller segments before the pandemic, and SriLankan is positioning for a strong comeback in China upon its return.
SriLankan will launch passenger flights to Shanghai on 3 April 2023. Accordingly, flights will depart from Colombo to Shanghai every Monday, Thursday and Friday, and return from Shanghai to Colombo every Tuesday, Friday and Saturday, respectively.
Flights from Colombo to Beijing will also commence on 3 April 2023, and are scheduled to depart for Beijing on Monday, Wednesday and Friday every week. The return flights to Colombo will depart on the respective subsequent days.
SriLankan Airlines currently operates a weekly flight between Colombo and Guangzhou, and a second flight will be introduced on 4 March 2023. Furthermore, SriLankan's services to Guangzhou will become a thrice-weekly operation exactly a month later on 4 April 2023, with flights taking off from Colombo to Guangzhou every Tuesday, Thursday and Saturday. The return flights from Guangzhou to Colombo will depart every Wednesday, Friday and Sunday.
With Chinese travellers eager to make up for lost time in globetrotting, SriLankan will be working closely with the local travel trade to reignite enthusiasm for Sri Lanka as a leisure destination in China. In addition to specifically curated holiday packages and deals, SriLankan offers Chinese customers the convenience of paying via Alipay and WeChat Pay. (Colombo Gazette)