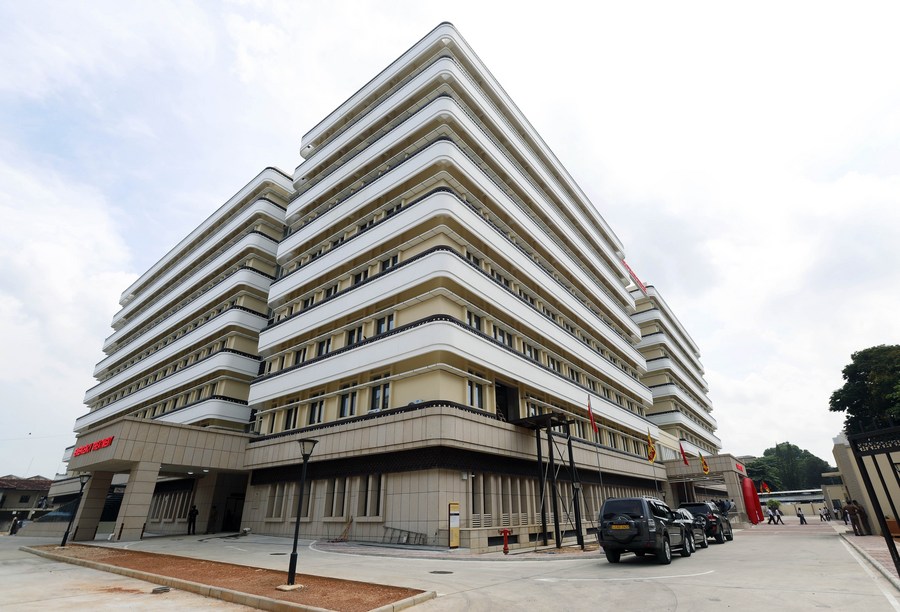 China is to keep its focus on Sri Lanka's health sector to strengthen the bilateral relations between both countries.
The outpatient building project of Sri Lanka's National Hospital built with Chinese assistance was handed over to Sri Lanka yesterday (Tuesday), the Xinhua news agency reported.
Chinese Ambassador Qi Zhenhong and Sri Lankan Minister of Health Keheliya Rambukwella representing the two sides signed the handover documents and attended a ceremony to celebrate the event.
Noting that the Chinese Government has prioritized the health sector in the development of bilateral relations, Qi said China has provided medical supplies and vaccines to Sri Lanka during the COVID-19 pandemic.
Noting the opening of the China-Sri Lanka Friendship Hospital in Polonnaruwa, the largest specialized hospital on kidney diseases in South Asia, Qin said eight mobile labs gifted by China have been deployed last year to help detect chronic kidney disease in rural areas.
The Ambassador added that China has also provided emergency medicine supply to Sri Lanka, hoping China's efforts could bring tangible benefits to front-line medical workers and patients.
Appreciating China's long-term support, Rambukwella said that the outpatient building is a considerable and really needed project for the country's health sector, and he is sure that medical professionals in the country will make the best use of it for the people, who will benefit immensely.
The project, with a construction area of about 50,000 square meters, would bring the hospital's daily handling capacity to 6,000 patients, and greatly help alleviate local medical resource constraints. (Colombo Gazette)