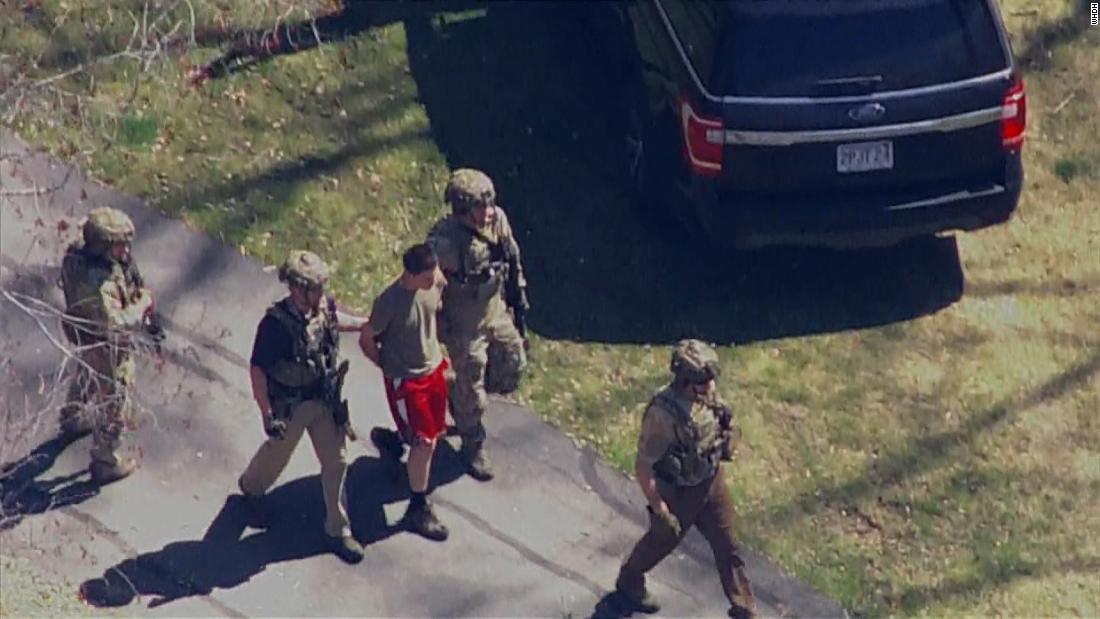 A 21-year-old US Air Force National Guard member has been arrested over the leak of classified documents.
Jack Teixeira is reported to be the leader of an online gaming chat group where the files were leaked.
US officials said he will be charged under the Espionage Act, which makes it a crime to transmit classified defence information.
The documents revealed sensitive intelligence about the war in Ukraine and other countries around the world.
Aerial footage showed officers making an arrest at Mr Teixeira's family home on Thursday.
It happened in Dighton, a town of 8,000 people about an hour to the south of Boston.
Footage of the arrest shows a young man, believed to be Mr Teixeira, walking backward towards armed FBI officers with his hands raised before he is handcuffed and led to a vehicle.
Roads in the area were blocked by police officers while the arrest was taking place.
"There were about six to eight Army guys with rifles walking around," local resident Dick Treacy told Reuters. "This is a very quiet area."
Mr Teixeira is expected to make his first court appearance in Boston on Friday.
He is a member of the intelligence wing of the Massachusetts Air National Guard, based at Otis Air National Guard Base in western Cape Cod.
According to his service record, obtained by CBS News, the BBC's US partner, Mr Teixeira joined the force in 2019.
His official title is cyber transport systems journeyman and he holds the rank of Airman 1st Class – a relatively junior position.
In a brief statement on Thursday, US Attorney General Merrick Garland said the suspect was taken into custody "without incident". (BBC)