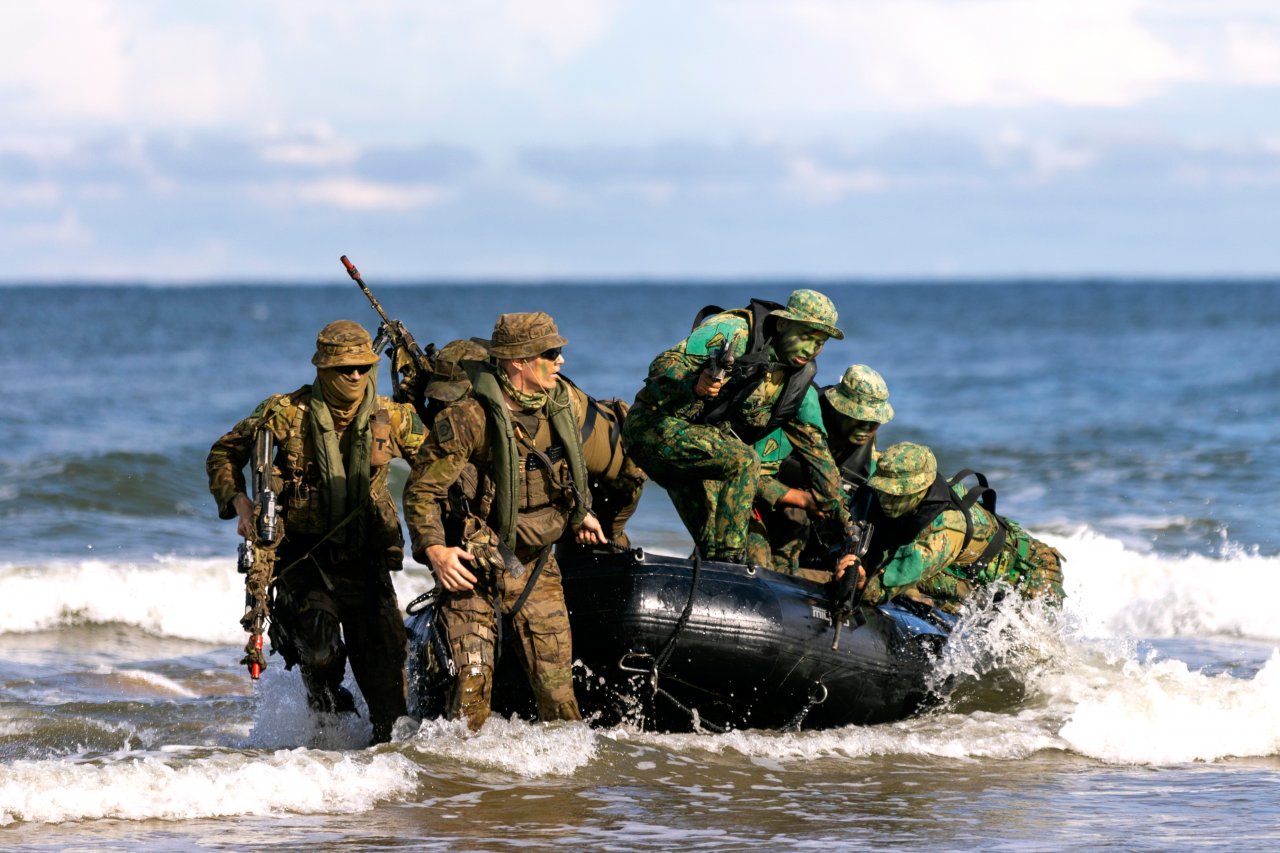 Australia's Defence Force is set to forge closer military ties with Sri Lanka and other countries in the north-east Indian Ocean, as the federal government weighs human rights concerns against urgent regional security fears.
Following the new Defence Strategic Review, published in abridged declassified form last week, the government is preparing to expand the longstanding Defence Cooperation Program beyond the Pacific, South-East Asia and south Asia, into countries on the Bay of Bengal and the Andaman Sea.
This expanded program is expected to include Sri Lanka, the Maldives and Bangladesh – all of which have previously expressed a desire for more engagement. It is also likely to entail a further broadening of ties with India, which is a member of the Quadrilateral Security Dialogue, or Quad, alongside Australia, Japan and the United States.
But the expansion will not include Myanmar, whose military overthrew the democratically elected government in 2021 and jailed its leader, Aung San Suu Kyi.
The Defence Cooperation Program involves conducting joint military exercises, training partner countries' personnel, participating in exchanges and secondments, hosting visits, holding strategic dialogues and contributing infrastructure support. It can also involve engaging in military operations together.
Last year's October budget showed the long-running program involved 13 countries in the Pacific, most substantially Papua New Guinea, and another eight in South-East Asia. It is understood to already also include Pakistan, though the country was not listed by name.
The Saturday Paper asked the Defence Department this week for a list of other countries in which the program operates, and the current expenditure in each. It declined to provide this information.
"Details of the Defence Cooperation Program will be published as part of the Defence Portfolio Budget Statement on Budget night next Tuesday," the department said in a statement.
The October budget allocated the program just under $400 million, including $34.4 million across South-East Asia, $50 million for PNG and $126 million across the wider Pacific. Another $670,000 was allocated to the Defence International Training Centre, at which some partner countries' forces receive training in Australia.
Speaking to The Saturday Paper, Defence Minister Richard Marles would not say which countries will now be added, but confirmed the north-east Indian Ocean is an additional focus. Marles insisted human rights issues in partner countries had always been factored into the program's operations.
"We are very mindful of the human rights situation in those countries and the role that the militaries in those countries play," Marles said. "And that's obviously a critical part of how we frame our Defence Cooperation Program around the world." As an Indian Ocean country, "we need to be engaged and we need to have a focus on that engagement," he said.
He emphasised that this was "within the context and the parameters" of those human rights considerations. "But clearly we need to be … deeply engaged in our region, and the north-eastern Indian Ocean is part of our region."
The Defence Strategic Review does not specify which countries the program expansion should include. One of those who helped write the review document, Professor Peter Dean, of Sydney University's United States Studies Centre, says those decisions are a matter for government.
"The review provides a strategic direction and an overall strategy and it's up to the government to operationalise that," Dean told The Saturday Paper this week.
The review seeks to elevate the strategic importance of the Indian Ocean in Australia's defence planning. That region is home to five of Australia's top 15 trading partners, 40 per cent of offshore oil production – with Australia particularly dependent on Singapore for fuel – and a significant proportion of the world's maritime trade.
"This goes to the strike and the deterrence and the denial message of the document," Dean says. "Can you imagine any threat, perceived threat or disruption to those supply lines – what the impact would be on regional stability?"
Marles emphasises that bolstering Australia's long-range military capability with submarines, more sophisticated missiles and more agile vessels and vehicles is about deterring what is known as grey-zone threats – such as to the economy and in cyberspace – as well as any direct military attack.
Peter Dean notes the strategy is about projecting enough force to deter a would-be aggressor from any kind of threat.
"If the Australian Defence Force has these capabilities, no state could do that without being held at significant risk."
Australia has the largest Indian Ocean coastline of any country – a point highlighted by a deliberately tilted map published in the review document that shows the Australian continent with its exposed west coast facing the top of the page, the vast oceans around it, and China dominating the land mass directly above.
The review strongly emphasises self-reliance – bolstering Australia's ocean-going capabilities and confidence to make sovereign decisions in its own interests – ahead of self-sufficiency, which would imply a future of going it alone.
Peter Dean says trying to operate without access to US capabilities would cost an unimaginable amount, or see Australia "basically end up unarmed".
The review recommends investment in long-range missiles and smaller vessels and vehicles that can be moved easily to locations offshore, including from bolstered north-western outposts, especially in the Cocos (Keeling) Islands. It advocates an urgent focus on the Indian Ocean region, as well as the Pacific. This is because the most likely threat to Australia is no longer low-level but involves a major power with expanding capability: China.
In the Pacific, strengthening Australia's diplomatic and security relationships is about ensuring that no country can establish a security foothold in what Dean calls "our front yard" – where Australia could be cut off from its major ally, the US.
The Indian Ocean hosts Australia's key trade routes and is the gateway to close partners in Asia and to the greatest potential flashpoints, including in the Taiwan Strait and the South China Sea. Dean notes it is also home to countries with no firm allegiance one way or the other in the US-China contest. The Defence Cooperation Program aims to further strengthen relationships to avoid those countries becoming closer to any power whose interests don't align with Australia's own.
The review recommends a whole-of-nation strategy, better integrating Australia's military and diplomatic efforts. The Defence Cooperation Program will form a key part of that. Operating since the 1960s, its remit is to develop partner countries' defence capabilities, enable their forces to face security challenges together and build personal links at tactical, operational and strategic levels.
It seeks to advance Australia's strategic interests and stabilise the region by strengthening other countries' capacity to protect themselves and each other.
Richard Marles acknowledged that it involved balancing sometimes-competing imperatives – the need to foster stable regional relationships versus the need to uphold Australia's democratic values and stand against governments that turn their militaries on their own people.
"I think that's a really good example of the sets of decisions that we've had to make in terms of balancing those competing tensions, which is what government is all about," Marles said. "And you can look at the decisions that we've made in relation to that to get a steer on how we do it."
But he said the government was not ready to announce expansion details.
Perth-based former federal Labor leader and former Defence minister Kim Beazley says the strategic review reflects the fact that "we're in a different world" to the one Australia faced in the past.
"I just think this is a much more disciplined view of what counts in this zone and hence they are much more forward-leaning when it comes to the Indian Ocean," Beazley tells The Saturday Paper. "It is in our national interest to have a forward position here." He suggests governments have balanced the values and security imperatives "since the beginning".
"You can't cut yourself off from the region because there are practices you don't like," he says. But he does not expect Myanmar to be returned to the list of countries included in the Defence Cooperation Program.
Myanmar was added after it undertook political and economic reform in 2011 and held democratic elections. But it was excluded again after the coup a decade later.
Beazley argues there is always a question as to how values affect military relationships, noting that the program has survived past periods of regional unrest. "The objective of the government is that all the areas we're talking about here should have peaceful relations between them," he says.
In the declassified version of the Defence Strategic Review, the Defence Cooperation Program occupies just three paragraphs. It is described as "an exemplar of defence diplomacy" and a "key pillar" of Australia's broader relationships around the region that must "continue to grow in importance".
"It should be expanded in the Indian Ocean region, particularly the north-eastern Indian Ocean," it says.
The Australia director for Human Rights Watch, Daniela Gavshon, says the government should proceed cautiously on engaging countries and individuals with questionable human rights records. She urges it to replicate a US law that prevents direct engagement with those whose records are blemished.
The Leahy law bans the US State Department and the Department of Defense from funding engagement with foreign countries' military units and military or diplomatic personnel if they have been involved in human rights violations.
"It is something Australia should seriously consider putting in place, especially if the government is going to be working with countries where members of their security forces are accused of committing serious human rights violations," Gavshon says. "There needs to be a vetting process to ensure Australia is not training and equipping human rights abusers."
She believes some countries should be ruled out altogether. "Certain security forces are so bad and continue to commit the gravest violations that the Australian government should absolutely not work with them," she says, citing the military junta in Myanmar, and adding that "Sri Lanka's security forces have a hugely problematic past and human rights violations continue. Many members of the security forces who have been accused of committing violations still hold senior positions."
The Saturday Paper sought a response from the Foreign Affairs minister but did not receive one before time of press.
The US also has a separate program of sanctions against individuals on human rights grounds. On April 26, it banned former Sri Lankan navy chief and now provincial governor Wasantha Karannagoda from travelling to the US as a result of his having faced murder and extortion charges relating to his country's past civil war.
"The violations there have been endemic and widespread," Gavshon says of Sri Lanka. "Australia should not go in blindly and work with them – training them or equipping them simply hoping they will improve … Not only does it turn a blind eye to what's happened in the war, it also condones it in a way, and it runs the risk of perpetuating further abuses," she says. "This is why a Leahy-style vetting process is so important."
But Gavshon also acknowledges that forging regional security relationships is important.
The strategic review has shortened the time frame for the risk of war in the Indo-Pacific. The reviewers were tasked with outlining the investments required to ensure Australia's "preparedness and mobilisation" over the next decade. Instead of explicitly mentioning mobilisation, or readiness for war, the review refers to "accelerated preparedness" – without specifying exactly for what. It has replaced what used to be an assumed 10-year warning time for a coming conflict with three preparedness phases: the next three years, "for those matters which must be prioritised and addressed urgently"; the five years up until 2030; and the period 2031 and beyond.
It says the first phase is for urgently enhancing the existing force, the second for accelerated acquisition of new capabilities and the third is when a fully redesigned force must be delivered across all five Defence domains: air, sea, land, space and cyberspace.
At a conference hosted by the Milken Institute in Los Angeles this week, Australia's new ambassador to the US, former prime minister Kevin Rudd, predicted there was still a five-year window before China might seek to take back Taiwan by force and spark conflict. Known globally as a China expert, Rudd said China was "actually not ready" yet.
"We have this five years where there is still a risk of crisis, conflict and war by accident," he told the conference. "So let's work to build up as many guardrails as possible to reduce that possibility."
The conference heard that without a NATO-style regional security organisation in the Indo-Pacific, the US was looking to alliances in the region to form the basis of what Rudd called a "Rubik's Cube" of deterrence.
Australia's Defence Cooperation Program is a growing part of that three-dimensional puzzle. (Courtesy The Saturday Paper)