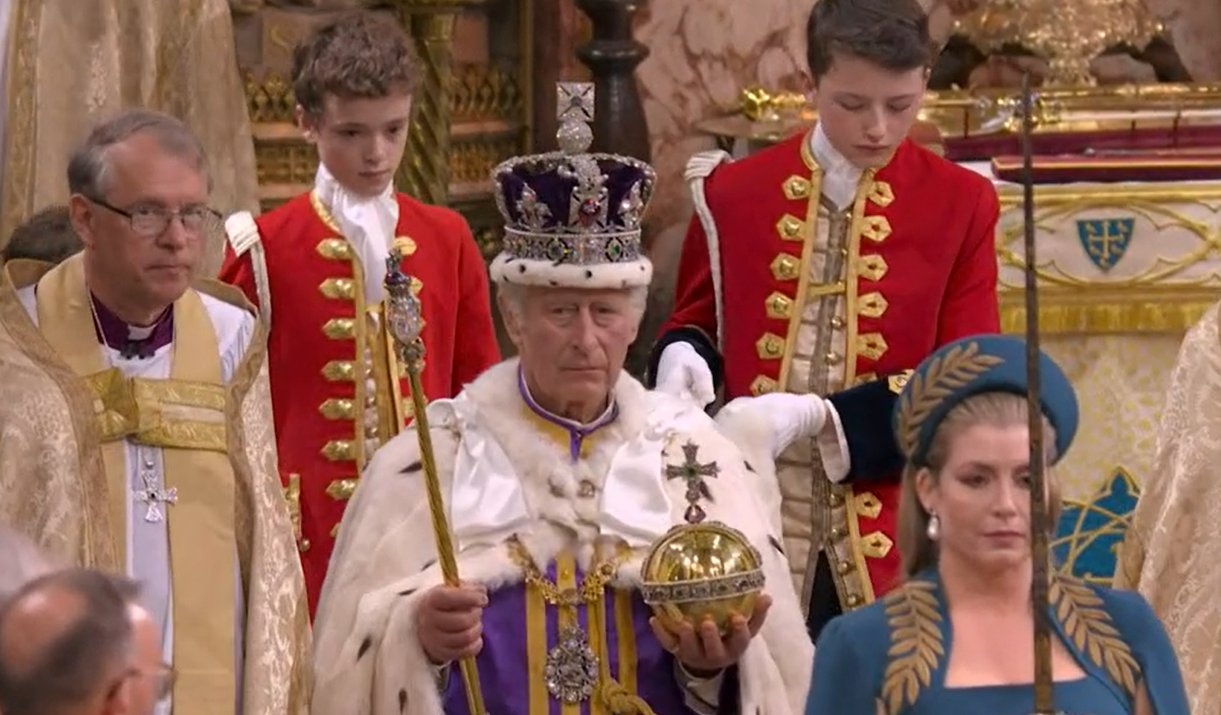 To shouts of "God save the king," Charles III was crowned Saturday as Britain's monarch in a sumptuous, ritual-infused display of pageantry that marked the culmination of his seven-decade-long journey to sovereignty.
Britain pulled out all the ceremonial stops for its first royal coronation since Charles' late mother, Elizabeth II, formally assumed the throne in 1953. Before some 2,300 invited VIPs — and an audience of millions worldwide — Charles and his wife, Camilla, took part in a series of centuries-old rituals, part of the long and solemn liturgy to mark their ascension.
Across a swath of central London, giant-sized Union Jacks flapped in the breeze, marching bands precision-stepped across cobblestones, and thousands of watchful "bobbies" patrolled the streets.
Coronation day, kicking off a long holiday weekend of festivities, dawned damp and cloudy, then brightened, then succumbed again to rain. Along the route of the royal procession, thousands of bleary-eyed onlookers — tourists and homegrown royalists alike — had lined up days in advance to claim a prime viewing spot, camping out with tents, tarps and plastic chairs.
"They deserve my respect, and they have it," said Dak Shi, a 66-year-old British health worker who is a staunchly devoted fan of the monarchy who waited to watch the royal procession pass.
Hours before the ceremony, in a moment of levity, or perhaps a keen appreciation of practical necessities, watchers near Trafalgar Square early Saturday enthusiastically cheered the passage of a truck carrying portable toilets. Many watchers wore hats and makeshift garments emblazoned with royalty-themed regalia, or wrapped themselves in British flag.
Security surrounding the event was the largest such operation in many years, said officials of the Metropolitan Police, which was fielding 11,000 officers to keep watch over the proceedings.
Invited guests with coveted seats inside the majestic abbey included First Lady Jill Biden — resplendent in a periwinkle-blue suit and matching gloves —together with many other domestic and overseas dignitaries. Traditionally, the American president does not attend coronations.
Charles has actually been king since September, when his widely revered mother died at 96 after 70 years on the throne, which made her the longest-serving British monarch. The coronation is meant to affirm and formalize his role, while boosting national unity and providing the kind of royal spectacle and iconic imagery that draws visitors from all over the world.
"We're just so excited — we came all the way from San Antonio!" said Debbie Hoover, 55, who traveled to London with her mother, Dottie. They booked their trip as soon as the coronation date was set.
Family drama, a constant refrain in royal circles, reached fever pitch as final hours to the ceremony ticked down.
Prince Harry — the king's younger son, who had a highly publicized falling-out with the family after stepping back from royal duties — was attending alone. Wife Meghan was staying home in Montecito, Calif., with the couple's children, marking the fourth birthday of their son Archie.
Harry played no formal role in the ceremonies, with the British tabloids gleefully declaring that this left him in the same social Siberia as Prince Andrew, the king's younger brother who was stripped of royal duties after a financial settlement with a woman who said she was forced into sexual encounters with him. (LA Times)