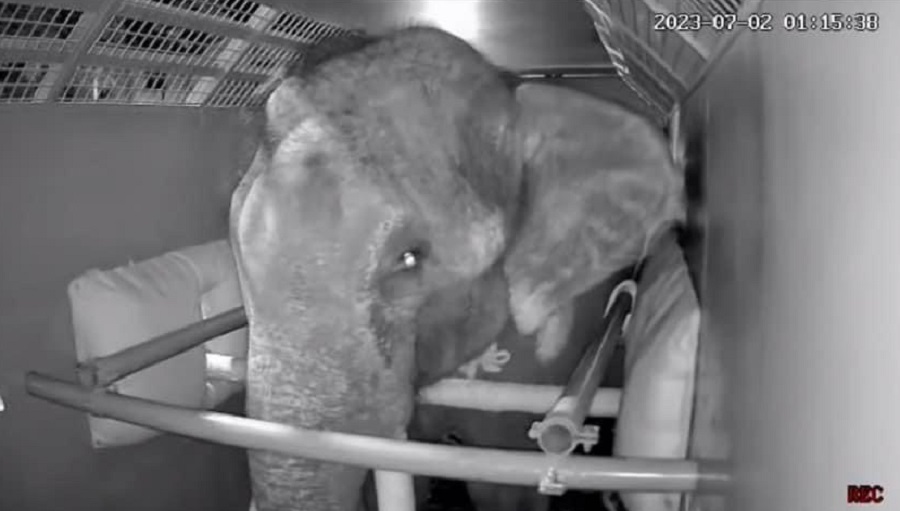 By Easwaran Rutnam
An ailing male Thai elephant was flown home from Sri Lanka today for treatment and rehabilitation.
Sak Surin was loaded onto a special flight at the Bandaranaike International Airport (BIA) and flown back to Thailand.
The 4,000-kilogram (8,800-pound) mammal arrived in Thailand just after 2 pm (0800 GMT), having been transported inside a specially constructed giant steel crate onboard an Ilyushin Il-76 cargo plane, foreign news agencies reported.
"He arrived in Chiang Mai perfectly," Thai Environment Minister Varawut Silpa-archa said at the airport.
Varawut helped give the elephant a drink after Muthu Raja's decorated crate was removed from the plane, with the thirsty animal eagerly reaching his trunk through a hole to accept the water.
Sri Lanka's Minister of Wildlife Pavithra Wanniarachchi had told Parliament recently that she had made several requests to the Thai Ambassador in Sri Lanka to reconsider the decision to transport the elephant back to Thailand.
However, she said that Thailand was firm on the decision to take the elephant back to the country.
The Minister also noted that the elephant belonged to a Temple and not the Sri Lanka Government as it was gifted to the Temple by the former regime.
Originally gifted with two other Thai elephants to Sri Lanka in 2001 as a goodwill ambassador, Sak Surin, also known in Sri Lanka as Muthu Raja, had been mistreated for years, according to a complaint made by Rally for Animal Rights & Environment (Rare).
The elephant had been overworked and was not properly cared for, and subsequently became very thin and sick, said the Sri Lanka-based animal rights group. The elephant has also sustained some serious injuries, which made it unable to bend its left forelimb for eight years, Rare said.
Attapol Charoenchansa, the Acting Director-General of the Department of National Parks, Wildlife and Plant Conservation (DNP) had told the Thai media that an Ilyushin IL-76 transport aircraft was sent to Sri Lanka to bring the elephant back.
In Thailand the elephant will be cared for at the Thai Elephant Conservation Center in Lampang. (Colombo Gazette)