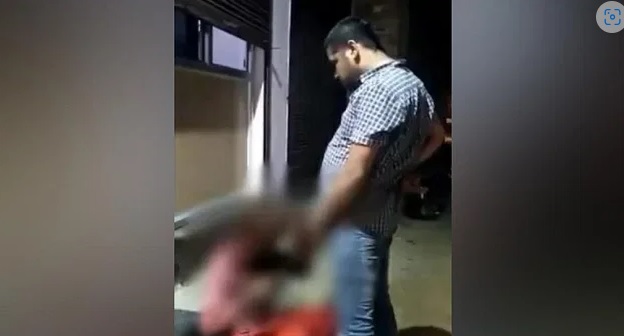 A viral video showing a man from India's central Madhya Pradesh state urinating on a tribal worker has sparked outrage across the nation, with Chief Minister Shivraj Singh Chouhan promising to punish the accused.
The clip, shared on the microblogging site Twitter, purportedly showed a man, allegedly a member of the ruling Bharatiya Janata Party (BJP) Pravesh Shukla, urinating on a worker from the indigenous community.
It is being further alleged that Shukla is an associate of BJP Member of the Legislative Assembly from Sidhi, Kedar Nath Shukla. However, the lawmaker has refuted such reports.
"A viral video of Sidhi district has come to my notice… I have instructed the administration to arrest the culprit and take strict action and also impose NSA," CM Chouhan tweeted in Hindi.
Following the incident, the police booked Shukla under Sections 294 (obscene acts), 504 (Intentional insult) of the Indian Penal Code and other provisions of the Scheduled Caste and Scheduled Tribe (Prevention of Atrocities) Act, 1989, local media reported.
It is being further said that the police might impose the stringent National Security Act against Shukla in the case.
The video drew the ire of the opposition parties, with Congress leader and former chief minister Kamal Nath saying, "There is no place for such a heinous and fallen act in a civilised society."
He also said atrocities against tribals in Madhya Pradesh should come to an end.
Sharing the disturbing video on Twitter, Congress spokesperson Abbas Hafeez said, "The BJP leader, who talks falsely about the interests of the tribals, is pissing on a tribal poor person like this. Very condemnable act."
She tagged the CM and wrote, "Is this your tribal love?? What to call this Jungle Raj and why the BJP leader was not arrested? The name of the accused is being told as Pravesh Shukla, who is the representative of the BJP MLA. The MLA is Kedar Nath Shukla."
Issuing a clarification to ANI news agency, BJP MLA Kedar Nath Shukla said, "He (the culprit in the video) is neither my representative nor an associate. He is not connected to BJP in any way. I am demanding strict action against the culprit". (Courtesy Wion News)