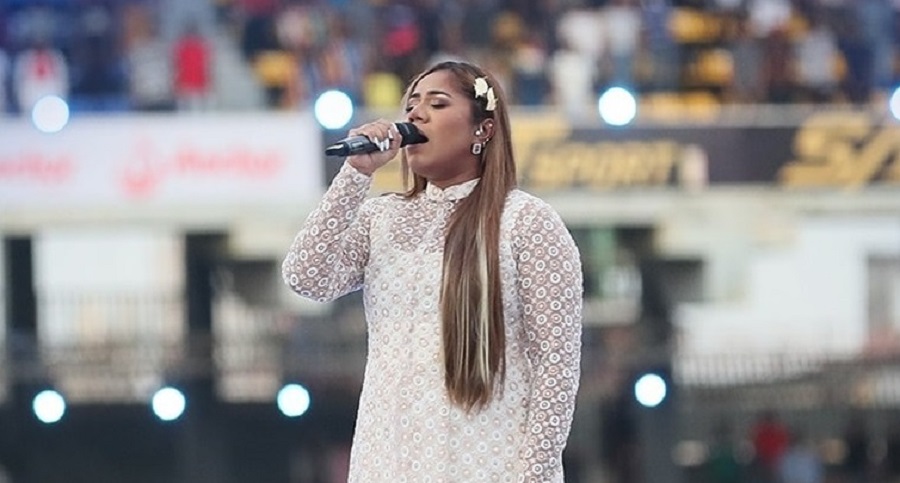 By Easwaran Rutnam
Social media is at war over the Sri Lanka National anthem sung by Umara Sinhawansa at the Lanka Premier League (LPL), with some attacking her while others came out in her defense.
Umara Sinhawansa was accused of distorting the lyrics of the Sri Lanka National anthem which she sang at the LPL opening ceremony on Sunday.
Sinhawansa was accused of singing "Sri Lanka Mahatha" instead of "Sri Lanka Matha".
Several people attacked the popular singer on social media saying she should not try to distort the Sri Lanka National anthem.
However, a number of others came out in her defense with some saying she was being attacked by a group angered over her withdrawal from another concert.
"I can't help but think that all the unnecessary backlash again Umara's rendition of the national anthem is because she took a principled stand to pull out of a concert," Samagi Jana Balawegaya (SJB) member Chamathka Ratnayake said in a tweet.
Others claimed her performance at the LPL was being used by another popular musician to launch a social media campaign against her.
Some local musicians also came out in Umara Sinhawansa's defense.
Meanwhile, the Ministry of Public Administration, Home Affairs, Provincial Councils and Local Government said that its attention has been drawn towards the incident.
The Lanka Premier League (LPL) 2023 took off on Sunday evening at the R. Premadasa Stadium. (Colombo Gazette)