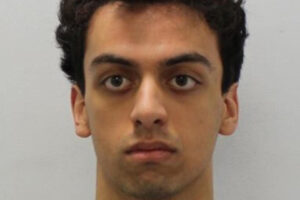 A British man with Sri Lankan connections has been sentenced to life in prison over the murder of a cop in the UK.
According to the British media, Louis De Zoysa, 25, whose father is a Sri Lankan, shot dead Sergeant Matt Ratana while handcuffed inside a police station custody cell.
Louis De Zoysa fired the antique pistol at 54-year-old custody sergeant Ratana as he was preparing to search him in the course of an arrest.
Metropolitan Police officers who first detained De Zoysa in the street found ammunition and cannabis, but failed to spot the gun loaded with six bullets which was tucked under his arm.
In the custody suite at Croydon, Sergeant Ratana, a New Zealand native, was struck in the chest by one of the shots, fired by De Zoysa despite him being handcuffed with his arms behind his back at the time.
At Northampton crown court on Thursday, Mr Justice Johnson condemned De Zoysa to die in prison as he imposed a whole life prison term – an exceptional sentence reserved for the most serious crimes including the murder of a police officer in the execution of his duty. (Evening Standard / Colombo Gazette)