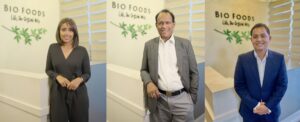 Bio Foods (Pvt.) Ltd., a pioneer in export agriculture in Sri Lanka, proudly commemorates its 30th anniversary as a leader of organic and fair-trade agriculture on a global scale. Established in 1993 by visionary founder and Chairman, Dr. A. Sarath Ranaweera, Bio Foods has emerged as an exemplary model for sustainable and ethical farming practices. With an unwavering commitment to cultivating positive change, the company has excelled by embracing the entire food production chain, from certified farmer groups to processing plants to the end consumer product.
The company's steadfast adherence to rigorous organic certification standards ensures products are untainted by harmful chemicals, pesticides, and genetically modified organisms. Also, Dr. Ranaweera's esteemed position as a member of the Fairtrade Labelling Organization (FLO) standard-setting committees during the early 1990s contributed significantly to the fair-trade regulations used globally today.
Concurrently, Bio Foods' resolute fair-trade practices and export revenues fortify the livelihoods of numerous small-scale farmers across the nation. The small farmer groups Dr. Ranaweera founded and trained in organic and sustainable practices (SOFA and MOPA) were awarded the World's Best Farmer Organization Award by FLO in the years 2015 and 2014 respectively. He was also honoured with the inaugural "World's Fairest Fairtrade Award" by the World Fairtrade Labelling Organization in 2014. Over the years, Bio Foods has earned numerous accolades and acknowledgements, particularly across Europe, due to its steadfast dedication to sustainability and social responsibility.
Dr. Ranaweera stated, "Our dedication to organic and sustainable practices has yielded substantial results. Contrary to popular misconceptions, these methods have proven to offer yields equal to or even surpassing those of conventional practices. We have generated significant outcomes and shared these results, contributing essential foreign revenue to Sri Lanka for an extended period." This perspective is further supported by Bio Foods' endorsement of Biodynamic agriculture and its utilization of certified organic fertilizers for over a decade.
Group CEO of Bio Foods, Madusha Ranaweera commented, "We stand here today, celebrating this significant milestone, amidst many challenges. Our success is a testament to the tireless efforts of our team, the dedication of our farmers, and the enduring support of our partners throughout our journey. True sustainability is built by the relentless desire of multitudes of people, attempting to always do better. We remain committed to this ideal as we move forward".
Facing a dynamic global landscape marked by the growing impacts of climate change, Bio Foods' steadfast agricultural practices have not only proven resilient but remarkably successful. For the last decade, the company has demonstrated its commitment by producing and utilizing its certified organic fertilizer, while also employing Biodynamic agriculture techniques that harness the natural cycles and energies of the environment.
Despite navigating formidable challenges, including the COVID-19 pandemic, governmental volatility, shifting policies surrounding organic agriculture, and the financial crisis of 2022, Bio Foods has consistently exemplified resilience and innovation. CEO of Bio Foods Sri Lanka, Gayan Wellala, advocates for broader adoption of their successful model stating, "Significant emphasis has been placed on the garment sector's role as a contributor to Sri Lanka's dollar revenue. However, a substantial portion of the foreign currency generated by this sector swiftly departs the country due to the necessity of importing its raw materials. In contrast, Bio Foods demonstrates an exceptional ability to retain 99% of the foreign currency it introduces to Sri Lanka's economy. This example not only underscores the potential for our nation to become a global leader in sustainable agriculture, but also accentuates the imperative for the development of astute governmental and financial policies. We, at Bio Foods, are fully committed to engaging in this constructive process, provided there exists a genuine interest and productive discourse,"
As Bio Foods celebrates its 30th anniversary, the company unveils its vision for the future, characterized by an expansion into novel horizons. The company aims to introduce innovative product lines that showcase the diverse riches of Sri Lanka's organic agriculture. By marking this pivotal milestone, Bio Foods reiterates its core principles and dedication to nurturing a better, healthier world. For further information, visit www.biofoodslk.com.