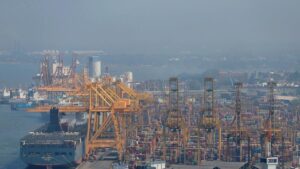 China has requested permission for a research ship to dock in Sri Lanka, Colombo said Tuesday, following a visit by a spacecraft-tracking vessel last year that sparked security concerns from neighbouring India.
Sri Lankan foreign ministry spokeswoman Priyanga Wickramasinghe said Beijing had sought permission for the Shi Yan 6 to dock, but that no date had been set and the request was being processed.
Chinese state broadcaster CGTN calls the Shi Yan 6 a "scientific research vessel" crewed by 60 that carries out oceanography, marine geology and marine ecology tests.
Last year, India raised concerns over a Sri Lanka port call in Hambantota by Chinese research vessel Yuan Wang 5, which specialises in spacecraft tracking and which New Delhi described as a spy ship.
India is suspicious of China's increasing presence in the Indian Ocean and its influence in Sri Lanka, seeing both as firmly within its sphere of influence.
Sri Lanka is strategically placed halfway along key east-west international shipping routes.
Last year, Colombo attempted to address New Delhi's concerns by asking China not to engage in any research activities while in Sri Lankan waters.
The Hambantota port has been run by the Chinese since 2017, when they took on a 99-year lease for $1.12 billion, less than the $1.4 billion Sri Lanka paid a Chinese firm to build it.
China last year said it was "completely unjustified for certain countries" to cite "security concerns" to pressure Sri Lanka.
China owns 52 percent of cash-strapped Sri Lanka's bilateral debt, and Beijing's support is crucial for Colombo's efforts to restructure its foreign loans.
Colombo defaulted on its $46 billion external debt in April 2022, and must restructure its finances as part of an International Monetary Fund bailout. (AFP)