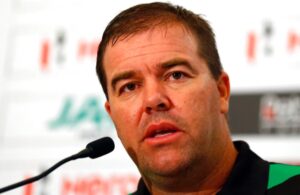 Former Zimbabwean cricket captain, Heath Streak, has debunked rumors of his demise, expressing frustration over the unchecked spread of false information.
Streak, a prominent figure in Zimbabwean cricket, was declared dead due to multiple social media posts making the claim earlier this morning.
Notable former cricketers such as Henry Olonga and Sean Williams also shared these reports of Streak's passing on social platforms. However, Olonga subsequently clarified on his X account that he contacted Streak, who confirmed he is alive and requested him to retract his earlier post.
In a message sent via WhatsApp to Mid-Day, Streak personally confirmed the inaccuracy of the reports regarding his supposed demise and urged the source of the fake news to apologise.
"It is a total rumor and a lie. I'm alive and well. I am very upset to learn that something as big as someone apparently passing can be spread unverified, especially in our day and age of social media. I believe the source should apologise. I am hurt by the news," he said.
Having been diagnosed with cancer earlier this year, Heath Streak has provided an update on his health, revealing that he is on a positive path to recovery. Streak conveyed that he is presently situated at his residence and is actively receiving cancer treatment. Despite encountering some challenges due to the treatment process, he assured that he is progressing favorably and maintaining good health overall, dismissing false reports of demise.
"People should be a bit more careful before spreading such rumours. I am better now and recovering from cancer. I am at home and obviously there's still a bit of strain because of the treatment. But otherwise, I am fine. Suddenly I get to know that people have started talking about my death, as someone shared it on social media. But that was not all correct. I am recovering and feeling a lot better," Streak told Sportstar. (Republic World)