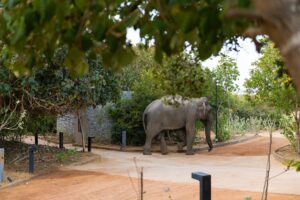 A newly opened luxury hotel in Yala is under fire over an elephant trail which runs through its property.
Hilton Yala published a post on social media saying an elephant trail weaves through its resort.
"Imagine waking up to mesmerising sceneries of lush greenery and gentle giants wishing you a wonderful day ahead," the newly opened hotel said in a post.
A number of people took to social media and slammed the property accusing it of being constructed on elephant corridor.
The hotel was declared open recently by President Ranil Wickremesighe.
Speaking at the opening Wickremesinghe mooted the 'Greater Yala' concept which will promote Yala and areas around it.
The President said that Yala must be promoted as a unified tourist destination by incorporating nearby areas.
Wickremesighe advised the Minister of Tourism, together with the Minister of Wildlife and Conservation, as well as the officials of those two ministries, to come up with the Greater Yala concept. (Colombo Gazette)