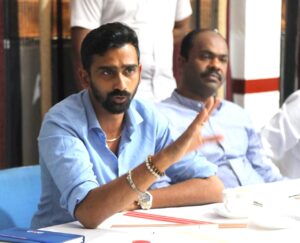 Minister Jeevan Thondaman says he is having difficulties working with the Government.
Thondaman told Parliament that he is not getting the support he expected from the Government to address the core issues faced by the up-country community.
He appealed to the Tamil MPs from the opposition to support him to push for solutions to the issues faced by the up-country Tamils.
Thondaman insisted that politics is not important as far as he is concerned.
The opposition then invited him to join the opposition if he cannot work with the Government.
However, Thondaman responded saying joining the opposition will not help resolve the issues of his people.
Instead, he said what is required is for all politicians to unite to address the issues faced by the up-country Tamils.
The Minister also admitted that he should have handled the situation in Matale better.
Thondaman used abusive language and threatened the estate official during a heated exchange that ensued at the estate in Matale over the mistreatment of a family.
A video shared on social media showed the Minister questioning the official and turning aggressive when the official refused to give in.
The Minister was angered on being told by the official to mind his language.
Thondaman was seen being restrained by his security and a few others around him.
The Minister told Parliament that he acted out of emotion and not as a Minister. (Colombo Gazette)