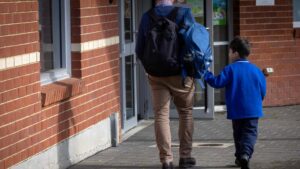 Police are investigating a string of alleged bomb threats across South Australia after 15 schools received alarming emails that pipe bombs were hidden among the grounds.
East Adelaide School alerted families to keep their children at home after receiving a bomb threat via email early Tuesday morning.
"This morning we were notified really early via email that there was a bomb threat to the school (that) there were several pipe bombs place around the school," East Adelaide School principal Vicki Stravinski said.
"That gave us enough time to evacuation processes in place."
Ms Stravinsky said authorities had told her "15 other schools approximately that received the same threat".
Parents were informed via email from the school that students who were already at school or sports training would be evacuated off site as per its emergency procedures.
"We notified our parents through a central messaging process before 8.30am," Ms Stravinski said.
"The majority of our parents did not bring their children to school, which is just outstanding.
"We have 560 students attending East Adelaide School; however, we probably had less than 90 who came to school this morning."
The decision to close the school comes as South Australia Police investigate a string of similar alleged threats made in recent days.
A South Australian Police spokeswoman said police were investigating the email after an escalation in alleged threats across the state.
"South Australian Police are aware of a number of calls and emails relating to threats on schools and healthcare facilities," she said.
"These have been reported across the metropolitan and regional areas in the last week and more increasingly in the last 24 hours.
"Police have commenced an investigation in relation to the source of these threats and will prosecute any individual identified to be involved in the dissemination of these threats."
The spokeswoman urged businesses to "carry out normal protocols around security if they are the recipient of one of these threats".
A SA Education Department spokeswoman said East Adelaide School wasn't directly targeted.
"The safety of students and staff is paramount for the department, our schools and preschools," she said.
"Out of an abundance of caution, East Adelaide Primary School issued an alert to parents today; however, there is no evidence that this school is facing any specific threat.
"The department is not aware of any evidence of a specific risk at any location at this time."
The spokeswoman said the department was working with police following the alleged threats.
"The Department for Education is aware that a number of automated calls and emails have been sent to schools across the state making threats," the spokeswoman said.
"At this time police have advised that schools should carry out normal protocols around security if they are the recipient of one of these threats."
Frank Ali, whose grandchildren attend East Adelaide School, said he was able to share his 35-year experience as a school principal with his grandchildren to help alleviate their concerns following the bomb threat.
"I told them it was 99.9 per cent a prank and once the police declared it safe to go back it was fine," Mr Ali said.
"In my 35 years' experience, we had many prank calls.
"Even though you have to take them seriously and you have to do the right things, I was pretty cool about the whole thing."
Ms Stravinski said the children on site knew how to follow the evacuation process.
"We've been through this process before in 2017 and I remained calm having gone through that process in previous years," she said.
"I know it's highly emotive but it's really important that I take one step at a time and put the needs of the families and our children before my own.
"There was no real emotion of panic, it was that calm, orderly fashion that principals all now have to put in place and follow." (News.com.au)