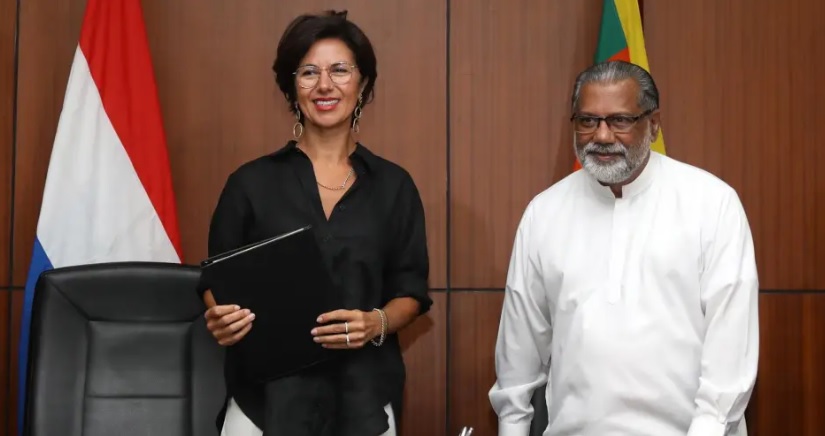 As Sri Lankan authorities signed an agreement with Netherlands for the return of six artefacts stolen from its territory during the colonial era, they said this would help "turn the leaf" in bilateral ties, even as such redressals of the historic cultural loot have increasingly gained weight in diplomacy.
"Met with the Secretary of State for Culture and Media of the Netherlands Gunay Uslu today," Sri Lankan Foreign Minister Ali Sabry announced on X – formerly Twitter – adding that "reference was made to the ongoing process for the restitution of six artifacts taken from Sri Lanka during Dutch colonial rule."
Uslu, who is currently in Sri Lanka for an official visit, on Monday signed an agreement with the Sri Lankan Culture and Religious Affairs Minister Vidura Wickramanayake for the transfer of the six objects, which are currently in Amsterdam's Rijksmuseum (National Museum).
"This is a historical time, a moment that Sri Lanka has been waiting for ages I should say," a beaming Wickramanayake told reporters after signing the accord, the first step in the return of stolen objects to their country of origin.
Addressing Uslu, the Sri Lankan minister proclaimed that with the return: "We turn a new leaf of our relations. Let bygones be bygones, let's move forward."
Meanwhile the Dutch minister stressed Netherland's desire to "build together a common future with closer cooperation in the fields of museums, collections and research."
In its first transfer of goods stolen during the colonial period, in July the Dutch government had announced plans to restitute 478 artefacts claimed by Indonesia and Sri Lanka.
As per Dutch authorities, the transfer of property to Sri Lanka would take place towards the end of the year.
The six objects to be returned include a ceremonial golden sword and another made of silver, a Sinhalese knife, two pistols and the renowned Lewke cannon.
Famous for being adorned with gold and precious stones and intricate artwork, the cannon was gifted to Sri Lankan king Vijaya Rajasinha in the 18th century. Curiously, the cannon was originally built in the Netherlands and was later looted from Sri Lanka by the Dutch.
Sri Lanka first fell under Portuguese colonial rule, followed by the Netherlands and eventually the United Kingdom, remaining a British colony until its independence in 1947.
The dialog on the restitution objects stolen by Colonial powers during their reign – with many of the artefacts now displayed in museum collections – has become increasingly important in the international arena.
On Saturday, the G20 culture ministers backed "an open and inclusive" dialog on the return of art and cultural objects stolen by colonial powers, during a meeting held in New Delhi. (Courtesy EFE)