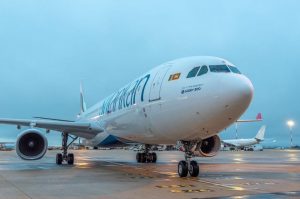 SriLankan Airlines today denied claims that flight UL 195 made an emergency landing in New Delhi.
Issuing a statement, SriLankan Airlines said that flight UL 195 from Colombo to Delhi had not made an emergency landing at the Indira Gandhi International Airport yesterday (23 August 2023).
The flight did, however, encounter a minor issue with one of its three hydraulic systems, the airline said.
"Such things happen from time to time, and the airline's crew are fully trained to handle them," SriLankan Airlines said.
SriLankan Airlines said that the loss of full functionality of just one hydraulic system neither affects the performance nor calls for an emergency landing of the aircraft.
As a routine precaution, the operating crew requested use of the longer runway for landing in Delhi.
"The landing was executed safely and without incident and the aircraft taxied to the parking stand for line maintenance work," SriLankan Airlines said.
All passengers onboard the flight exited the aircraft safely and ahead of the scheduled time of arrival, without any interruption to their journey.
SriLankan Airlines says it always puts the safety of its passengers and employees first and it is in this spirit that the airline's pilots of UL 195 took prompt action following procedures on landing to ensure the safety of the people onboard the flight. (Colombo Gazette)