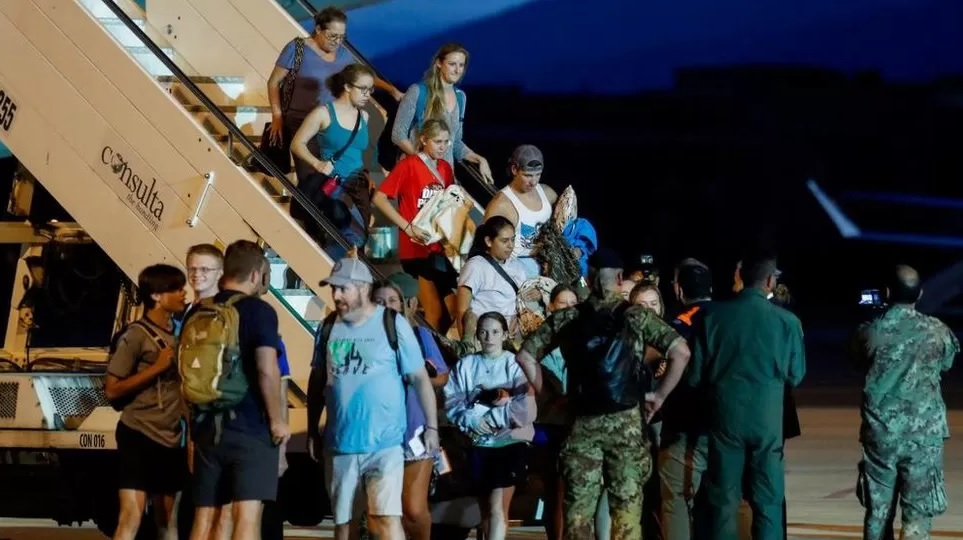 The United States has ordered the partial evacuation of its embassy in Niger following last week's coup.
Hundreds of foreign nationals have already been evacuated from the country, and on Sunday the French embassy was attacked by protesters.
Coup leader Gen Abdourahamane Tchiani has warned against "any interference in the internal affairs" of the country.
Protests in support of the coup are expected to take place on Thursday to mark Niger's independence day.
That is despite an official ban on demonstrations.
France, the former colonial power in Niger, has asked the military junta which has taken control of the country to guarantee the security of their embassy.
Crowds attacked the French diplomatic mission on Sunday, prompting the country to organise evacuation flights.
One resident in the capital, Niamey, told the BBC's Outside Source programme that everything had been quiet there so far.
"People are doing their duty like they do it every day," said Sidien.
He added that there was a military presence around some embassies and ministry offices, as well as the president's palace.
Sadissou, who is in Niger's second city, Maradi, said it was a similar situation there but that the calm was deceptive.
"The situation has changed and so people are very anxious. They're anxious about the future, about what's going to happen."
Niger is a significant uranium producer and lies on a key migration route to North Africa and the Mediterranean.
US Secretary of State Antony Blinken spoke to the ousted President, Mohamed Bazoum, on Wednesday, the state department says, adding that the US is committed to the restoration of Niger's democratically elected government.
Spokesperson Matthew Miller said that, despite the partial evacuation, the country's embassy in capital Niamey would remain open.
"We remain committed to the people of Niger and our relationship with the people of Niger and we remain diplomatically engaged at the highest levels," he said.
The US is a major donor of humanitarian and security aid to Niger, and has previously warned that the coup could lead to the suspension of all co-operation.
The British embassy in Niger's capital, Niamey, has also announced that it will also reduce staff numbers due to the security situation.
France and the EU have already suspended financial and development aid.
The Economic Community of West African States (Ecowas), a trade bloc of 15 West African countries, has imposed sanctions which include a halt on all commercial transactions with Niger and a freeze on the country's assets in the regional central bank.
Niger's electricity company also says that neighbouring Nigeria has cut electricity supplies, leading to widespread power cuts, although this has not been confirmed by Nigeria.
In a televised address on Wednesday, Gen Tchiani said the new regime rejected "these sanctions as a whole and refuses to give in to any threat, wherever it comes from".
He labelled the sanctions "cynical and iniquitous" and said they were intended to "humiliate" Niger's security forces and make the country "ungovernable".
Military chiefs from Ecowas met in Nigeria on Wednesday to discuss a possible military intervention, though they said such action would be a "last resort".
Gen Tchiani, a former chief of the presidential guard to Mr Bazoum, seized power on 26 July, saying he wanted to avert "the gradual and inevitable demise" of Niger.
The coup has prompted major demonstrations against France, which remains a major partner, and in favour of Russia, whose influence in west and central Africa has grown in recent years.
On Sunday, hundreds of protesters gathered outside the French embassy in Niamey, some chanting "Long live Russia", "Long live Putin", and "Down with France".
They also set fire to the walls of the embassy compound.
On Wednesday, 262 people arrived in Paris on evacuation flights organised by the French government. A flight organised by Italy also landed in Rome with 87 people on board.
In his address, Gen Tchiani said French people in Niger had never been subjected "to the least threat".
Niger, where both France and the US maintain military bases, has been a key Western ally in the fight against jihadist extremism in the Sahel.
After military leaders in neighbouring Mali chose to partner with the Russian Wagner mercenary group in 2021, France moved the centre of its regional counter-terror operations to Niger. (BBC)