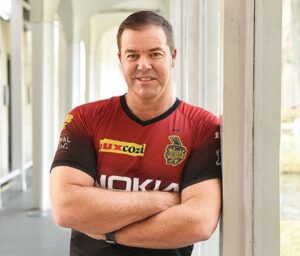 The wife of former Zimbabwe cricket captain Heath Streak has announced his heartbreaking death after a battle with cancer.
Streak's wife Nadine confirmed the news on Sunday, just over a week after false reports had emerged of his death.
"In the early hours of this morning … the greatest love of my life and the father of my beautiful children, was carried to be with the angels from his home where he wished to spend his last days surrounded by his family and his closest loved ones," Nadine wrote on Facebook. "He was covered in love and peace and did not walk off the park alone. Our souls are joined for eternity Streaky. Till I hold you again."
Streak had been undergoing treatment in South Africa after being diagnosed with colon and liver cancer earlier this year. "Heath has cancer and is undergoing treatment under one of the most respected oncologists in South Africa," his family said in a statement at the time of his diagnosis. "He remains in good spirits and will continue to fight this disease in a similar vein to that which his opponents faced during his revered days on the cricket field."
Late last month, Streak's former teammate Henry Olonga was forced into an embarrassing backtrack after falsely reporting his death. "I can confirm that rumours of the demise of Heath Streak have been greatly exaggerated," Olonga wrote. "I just heard from him. The third umpire has called him back. He is very much alive folks."
Streak was the all-time leading wicket-taker for Zimbabwe at Test level. He claimed 216 scalps and scored 1990 runs in 65 Test matches between 1993 and 2005. He also played in 189 one-day internationals, scoring 2943 runs and claiming 239 wickets. In 254 international matches across all formats, he claimed a total of 455 wickets and 4983 runs – including one century and 11 half-centuries.
Streak has coached Zimbabwe and Bangladesh since his retirement and previous served as bowling coach for Kolkata Knight Riders in the Indian Premier League. The Knight Riders won the T20 competition twice while Streak was part of the coaching set-up.
In 2021 he was given an eight-year ban from the sport after admitting breaches of the International Cricket Council's anti-corruption code. He took "full responsibility" for his actions but said he was never involved in any attempts to fix matches.
Zimbabwe Cricket's official Twitter account posted: "Our heartfelt condolences go out to the family, friends, and fans of former (Zimbabwe) captain Heath Streak. His contributions to cricket will always be remembered, and he will be dearly missed. Rest in peace." (Yahoo Sports)