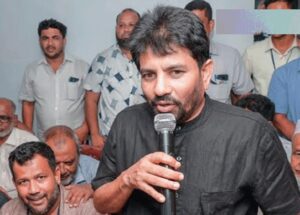 A resolution brought by the Leader of the Opposition Sajith Premadasa to suspend Member of Parliament Ali Sabri Raheem from the Committees of Parliament was approved in Parliament today.
Presenting the motion, the opposition leader mentioned that, whereas the illegal act of misconduct committed by Ali Sabri Raheem, Member of Parliament of the Puttalam District, has been referred to the Committee on Ethics and Privileges of Parliament for an investigation at present, and whereas the involvement of the relevant Member of Parliament in the Committees of Parliament creating a problematic situation in relation to the conduct of Members of Parliament, this Parliament resolves that the Hon. Ali Sabri Raheem should not represent the Committees of Parliament until the said investigation is over.
The resolution brought by the leader of the opposition was approved by Parliament after the Chief Opposition Whip, Member of Parliament Lakshman Kiriella seconded it.
The leader of the opposition also said that a fine of only 7.5 million rupees was charged from the Member of Parliament who illegally brought 3.3kg of gold worth 74 million rupees and 41 smart phones worth 4.2 million rupees, but a fine of 70 million rupees was charged from a Frenchman who brought a stock of gold worth 80 million rupees.
Accordingly, he said, an investigation should be carried out on imposing a lenient fine on the MP. (Colombo Gazette)