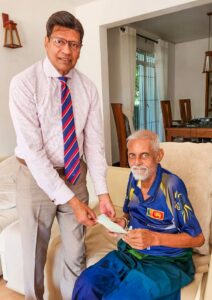 The Sri Lanka Cricket board donated Rs. 5 million to legendary cheerleader Uncle Percy towards his health and wellbeing.
This donation was made to Percy Abeysekera after it was approved by the Executive Committee of Sri Lanka Cricket headed by the President of Sri Lanka Cricket, Shammi Silva.
"Percy's contribution to the game of cricket in Sri Lanka as a cheerleader is immeasurable,
and he has been a tower of strength for the players and to the game as a whole, and it was
our turn to give back and look into his wellbeing," Secretary of Sri Lanka Cricket Mohan de Silva said.
The donation was handed over to Abeysekera by Mohan De Silva, when he visited Percy's house on behalf of Sri Lanka Cricket to inquire about his health and wellbeing.
Indian cricketers and both current and past Sri Lanka cricketers had also visited Percy Abeysekera earlier and wished him good health. (Colombo Gazette)