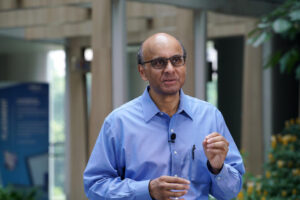 The Sri Lankan ancestry of new Singapore President Tharman Shanmugaratnam has been seen as an inspiration by Sri Lanka.
Foreign Minister Ali Sabry wished Shanmugaratnam on X (formerly known as Twitter) on his election as President of Singapore.
"His achievements and his Sri Lankan ancestry are indeed an inspiration," Ali Sabry said.
Singaporeans have given Tharman Shanmugaratnam a resounding mandate to be Singapore's ninth President.
The 66-year-old former senior minister scored a big win with 70.4 per cent of the vote, while Ng Kok Song and Tan Kin Lian received 15.72 per cent and 13.88 per cent, respectively, the Straits Times had reported.
Addressing the media later Tharman said he was "humbled by the strong endorsement that Singaporeans have given to me".
"I believe that the vote for me and what I stand for is a vote of confidence in Singapore… It is a vote of optimism for a future in which we can progress together," he said.
He also thanked his fellow candidates for making the presidential election a worthy contest. (Colombo Gazette)