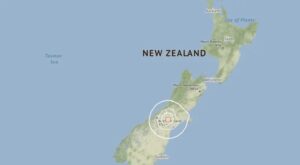 A strong earthquake with a magnitude of 6.2 rattled the South Island of New Zealand on Wednesday (Sep 20), said a government website, but initial reports indicate no injuries or significant damage.
The epicentre of the quake, which hit at 9.14am (2114GMT), was 124km west of Christchurch at a depth of 11km, the New Zealand government's Geonet website said.
Via the website, about 15,000 people reported feeling the earthquake.
Sarah Hussey, a farmer close to the epicentre, said the quake had been stronger than others she remembered.
"There's no damage here, but I thought it was thunder for a start. The house lifted up for a bit," she told TVNZ's 1News.
Scott Shannon, deputy mayor of Timaru near the centre of the earthquake, told Radio NZ there had been no immediate reports of damage but checks were ongoing.
The quake struck not far from where a 6.3 magnitude quake hit in 2011, killing 185 people and causing major damage in the South Island city of Christchurch.
New Zealand sits on the Pacific Ring of Fire, where tectonic plates collide, and experiences frequent seismic and volcanic activity. (CNA)