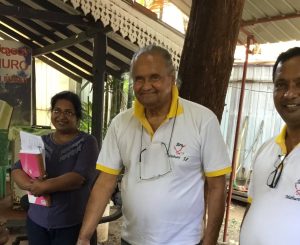 Controversial businessman Lalith Kotelawala, who was accused over the misappropriation of 26 billion rupees of investments from the failed Golden Key Credit Company, passed away today.
The former Chairman of Ceylinco Consolidated and the founding Chairman of Seylan Bank, Deshamanya Deshabandu Jeewaka Lalith Bhupendra Kotelawala was 84-years-old at the time of his death.
He passed away while receiving treatment at a private hospital in Colombo.
Taking over Ceylinco Consolidated from his father in the 1960s, Kotelawala expanded the group into new fields including banking, non-banking finance, investment banking, housing and property development, travel and leisure, communication and information technology, education and healthcare and microfinance.
He also founded a peace initiative in Sri Lanka, three years after being wounded in an LTTE attack in 1996. (Colombo Gazette)