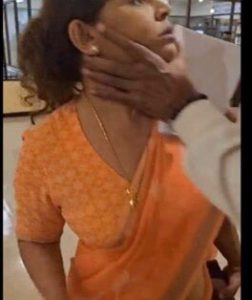 State Minister Diana Gamage got herself admitted in hospital following an alleged assault by a Samagi Jana Balawegaya MP in Parliament.
The State Minister alleged that MP Sujith Sanjaya Perera assaulted her in the Parliament premises following an argument.
A video shared on social media showed a heated exchange taking place between the State Minister and some SJB MPs.
The argument was over the mistreatment of women MPs in Parliament.
Gamage told reporters at the hospital that she was assaulted by MP Sujith Sanjaya Perera, an allegation the MP denies.
However, a photograph shared on social media shows the hand of a male grabbing the State Minister by the neck.
MP Sujith Sanjaya Perera said that the State Minister had attacked him and that he acted in self-defense. (Colombo Gazette)