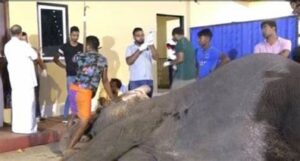 The Defence Ministry has launched an investigation into the shooting of an elephant during the annual procession of the Mahiyangana Raja Maha Vihara temple.
Issuing a statement, the Ministry of Defence said that the chief prelate of the Mahiyangana temple has made a request to the Wildlife Department to establish a wildlife team in the temple to drive out wild elephants as there is frequent roaming of these animals in the area.
In response to the request, a team of Wildlife Department officers along with one Civil Security Department (CSD) personnel had been entrusted to drive away the wild elephants.
On 30.09.2023 at around 3.15 am, an incident was reported of rubber bullets been fired at an elephant named Sita, which had been kept near the banks of the Mahaweli River presuming it to be a wild elephant.
The CSD has commenced an internal disciplinary investigation on this incident.
Acting Minister of Defence Premitha Bandara Tennakoon has ordered the relevant authorities to conduct an internal investigation in this regard.
The Defence Ministry said that action will be taken against the CSD personnel for misconduct if he was found to have committed any disciplinary offense while on duty. (Colombo Gazette)