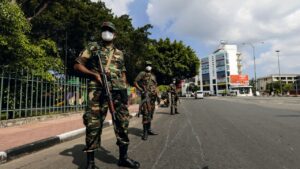 The military, through an extraordinary gazette notice, has been ordered to remain on alert across Sri Lanka.
President Ranil Wickremesighe issued the gazette notice under the Public Security Ordinance, with effect from 22nd October.
The gazette has been renewed every month giving the military powers to assist the Police in matters related to law and order.
"BY virtue of the powers vested in me by Section 12 of the Public Security Ordinance (Chapter 40), I, Ranil Wickremesinghe, President, do by this order call out with effect from October 22, 2023 all the members of the Armed Forces specified in the First Schedule hereto, for the maintenance of public order in the areas specified in the Second Schedule hereto," the gazette notice states.
Accordingly, the Sri Lanka Army, Navy and Air Force have been deployed across the island to maintain law and order.
The military has continued to remain on alert since the Easter Sunday attacks in 2019. (Colombo Gazette)