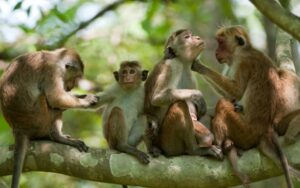 More countries have sought monkeys from Sri Lanka after a similar request came from China, the Government said today.
Agriculture Minister Mahinda Amaraweera told Parliament that a Chinese company had requested Sri Lanka to export monkeys to fill a shortage at their zoos.
However, the Minister said that the decision to export monkeys to China was suspended after animal rights groups went to court fearing the animals will be eaten in China.
Amaraweera said that more countries had since requested Sri Lanka to export monkeys to their zoos but the matter was not progressed.
The Minister said that Sri Lanka had earlier agreed to export monkeys in an attempt to control the damage caused to crops by the monkeys.
He claimed that most people did not oppose the move but yet animal rights groups had raised concerns.
In June this year the Attorney General appeared in court and stated that they have received instructions from the Department of Wildlife and Conservation that they will not be taking steps to export monkeys to China
Thirty petitioners, including the Wildlife and Nature Protection Society of Sri Lanka, Rescue Animals Sri Lanka, RARE Sri Lanka, Justice for Animals and others, filed action in the Court of Appeal pursuant to the statement made by Minister Mahinda Amaraweera that there were plans to export toque macaque monkeys from Sri Lanka to China. (Colombo Gazette)