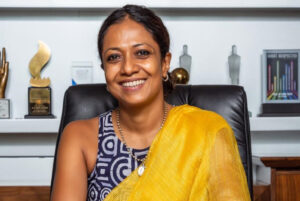 The first female Group CEO of a public quoted conglomerate in Sri Lanka, Kasturi Chellaraja Wilson, has decided to resign from her post.
Hemas Holdings PLC, a leading Sri Lankan conglomerate, today announced the resignation of Ms. Kasturi Chellaraja Wilson from her position as Group Chief Executive Officer, effective 31st March 2024.
Kasturi has been an integral part of the Hemas family for over two decades, having led several businesses within the Group before assuming the role of Group CEO. Since her appointment as Group CEO in October 2020, she has played a pivotal role in Hemas' growth and success during her tenure. Under her dynamic leadership, Hemas transformed into a purpose-led organization, strengthening its market positions in Consumer, Healthcare, and Mobility over the past three years.
Kasturi's decision to resign comes as she takes on a new role with a global firm, overseeing diverse business interests and expansion plans in the Asia Pacific region. This unique opportunity allows her to operate on the international stage while continuing to fulfill her commitments in Sri Lanka. Following her resignation, Kasturi will maintain her association with Hemas Holdings PLC by serving on its Board as a Non-Executive Director.
Commenting on her departure, Mr. Husein Esufally, Chairman of Hemas Holdings PLC, remarked, "During her 21 years with Hemas, Kasturi has made an immense contribution to the Company, none more so than during her tenure as Group CEO, where she led the Company through multiple crises. While we are sad to see her go, we deeply appreciate Kasturi's dedicated service to Hemas and understand and respect her decision."
Kasturi will continue to serve as the Group CEO and lead the management team until 31st March 2024, ensuring stability and continuity during the transition period.
Hemas Holdings PLC reaffirms its commitment to its ambitious plans for growth within core sectors, alongside a strategic focus on international expansion. The Board has initiated a comprehensive search process to identify a successor who will build upon the company's strong foundation and lead its growth agenda into the future. Further announcements regarding succession plans will be made in due course.
Hemas remains steadfast in its mission to 'empower families to aspire for a better tomorrow,' continuing to serve its purpose-driven goals and values. (Colombo Gazette)