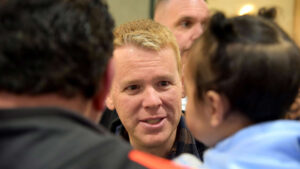 New Zealand Prime Minister Chris Hipkins has tested positive to COVID-19 and has been forced into virtual campaigning ahead of the October 14 election.
Hipkins' campaign team cancelled his Sunday morning plans after the Labour leader woke up unwell in Auckland.
A test subsequently showed the prime minister had caught COVID-19, scotching his plans during a critical phase of the campaign.
"He has cold and flu symptoms that began yesterday. He will be isolating for 5 days or until he returns a negative test," a spokesman for the prime minister said.
"He will continue with engagements he can undertake via zoom."
New Zealand no longer has mandatory COVID-19 isolation periods in place, though Mr Hipkins is choosing to do so under its recommended health advice.
Mr Hipkins summed up his dilemma with the first word of a post to Instagram.
"Bugger!" he said, alongside a picture of his COVID-19 test.
"After a rough night I woke up this morning feeling pretty unwell and just got this test result.
"I'm in close contact with New Zealanders on this campaign trail and don't want to pass it on to anyone, so I'll be following the guidance and isolating.
"There's a lot at stake this election and I'll be working doubly hard when I can get out there to make sure Labour is re-elected."
The 45-year-old's illness echoes his Australian Labor counterpart, Anthony Albanese, who caught COVID-19 during his campaign for election last year and sat on the sidelines.
The timing could barely be worse for Mr Hipkins and Labour, which trails by an average of 10 points to the centre-right National party, led by Chris Luxon.
Labour has looked likely election losers for much of the year, but Mr Hipkins was judged a clear winner of last week's leaders debate and was campaigning with renewed vigour after that boost.
"The campaign might have started slow but I've decided I'm going to enjoy the last two-and-a-half weeks of it and so this is the level of energy you're going to see from me," he said on Wednesday after that debate.
"It's been a challenging year and our campaign probably took a wee while to get up a decent head of steam but I'm really enjoying myself now and I'm fully going to enjoy the next two-and-a-half weeks."
Mr Hipkins' momentum will now come to a halt, with deputy leader Carmel Sepuloni stepping up in his place for the launch of the party's manifesto in Auckland on Sunday.
Advance voting begins in New Zealand on Monday, and the third leaders debate – hosted by The Press newspaper in Christchurch – is scheduled for Tuesday night.
Mr Luxon offered kind thoughts to his rival in a social media post from the campaign trail in Auckland.
"Get well soon Chris Hipkins. Will see you back on the campaign trail before too long," Mr Luxon said.
It is unclear whether the virus has spread far into Labour's ranks.
One of Mr Hipkins' press secretaries has also tested positive, as has Rachel Brooking, a Dunedin-based Labour MP. (AAP)