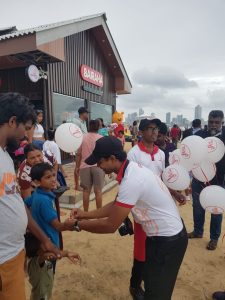 Leading poultry producer and supplier, Bairaha Farms PLC, marked the World Children's Day 2023 with a joyful celebration at its recently launched flagship restaurant, Bairaha Chicken Café, located in the heart of Port City Colombo. The event, which took place on October 1, 2023, witnessed the participation of over 200 excited children, making it a memorable day filled with happiness, good food, and community spirit.
The Children's Day celebration at Bairaha Chicken Café was a resounding success, with children of all ages engaging in a wide array of fun and wholesome activities. These activities included face painting, interactive games with nitrogen balloons, lively mascot encounters, and the opportunity to capture cherished moments through photography.
Adding to the merriment, the children were treated to a delectable feast prepared by Bairaha's in-house team of professional cooks. This special treat was provided free of charge as part of the company's mission to introduce younger audiences to the benefits of nutritious, protein-rich foods.
Bairaha Farms PLC's Managing Director, Yakooth Naleem, shared his thoughts on the company's dedication to corporate social responsibility, underscoring the importance of giving back to the community. "We selected Port City to celebrate Children's Day because it will give a different feeling to our kids, and we are committed to making a positive impact on their lives," he remarked.
In a significant display of corporate social responsibility, Bairaha Farms PLC also extended its support to the Zahira Muslim College – Ellalamulla, which is located near the company's Chicken Processing Factory in Ellalamulla, Pasyala. On the occasion of International Children's Day, which also took place on October 1, 2023, Bairaha Farms PLC donated a sum to enable the school to provide lunch for 275 students and 12 teaching staff members.
The Children's Day celebration at Zahira Muslim College – Ellalamulla was a heartwarming event that showcased the incredible talents of the school's students. The day was filled with lively dance and song performances, providing an inspiring glimpse into the potential of the younger generation.
During the event, the Principal of Zahira Muslim College – Ellalamulla expressed profound gratitude for Bairaha Farms PLC's generous support, recognizing it as a significant step in enhancing the educational standards of the students. He emphasized the importance of such initiatives in motivating and encouraging students.
Bairaha Farms PLC's Children's Day celebrations exemplify the company's commitment to promoting the welfare of children and investing in their future. By fostering joy and providing support to educational institutions, Bairaha Farms PLC seeks to make a meaningful difference in the lives of the younger generation.
Bairaha Farms PLC is the pioneer in poultry production, with a rich history of nearly 50 years in Sri Lanka, and is well known among households for its quality chicken and processed chicken products. The company's operations are vertically integrated, from manufacturing of feed for poultry, to breeding, commercial farming, processing of chicken and manufacture of value added, pre-cooked meat products, among others. The company has a steady growth trajectory, and has been the recipient of many local and international accolades.