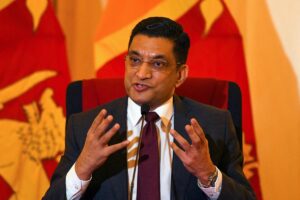 Sri Lanka's Foreign Minister Ali Sabry continued his attack on Canada and its alleged double standards on human rights.
He said that Canada is not genuinely interested in human rights in Sri Lanka but is only focused on vote bank politics.
The Foreign Minister drew attention to Canada voting against a UN resolution that condemned settlement activities in the Occupied Palestinian Territory, including East Jerusalem, and in the occupied Syrian Golan.
"Look at how Canada has voted , Do you see the hypocritical double standards ! If you think they are genuinely interested in Human Rights in SriLanka, you are sadly mistaken! It is VOTE BANK politics all the way!" the Sri Lankan Foreign Minister said on X (formerly Twitter).
India was among 145 nations that voted in favour of the UN resolution. The draft resolution was approved on Thursday, November 9.
The development comes over a month after Israel launched an attack on Gaza in response to a surprise attack by Hamas terrorist group on October 7.
The UN draft resolution titled "Israeli settlements in the Occupied Palestinian Territory, including East Jerusalem, and the occupied Syrian Golan" was passed by overwhelming majority. Seven– Canada, Hungary, Israel, Marshall Islands, Federated States of Micronesia, Nauru, United States– voted against the resolution and 18 abstained from voting. (Colombo Gazette)