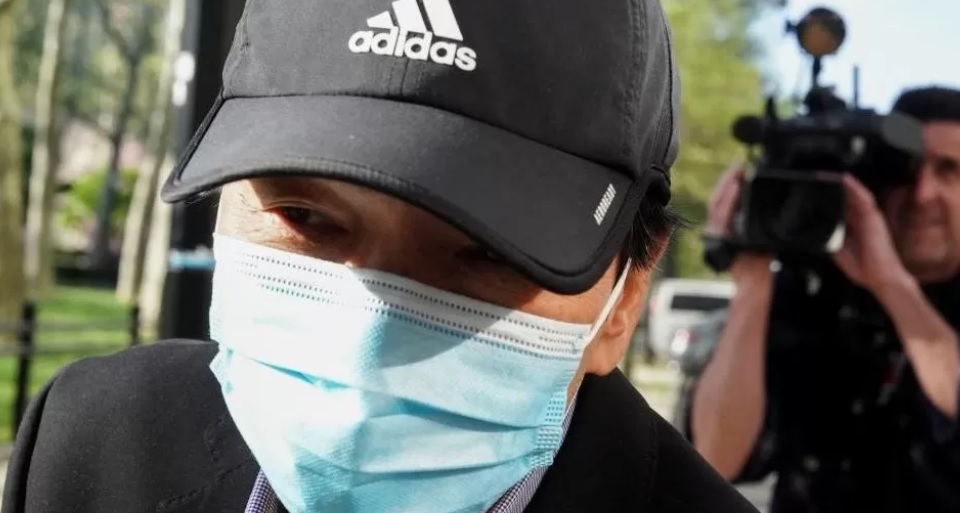 US prosecutors have arrested two men in New York for allegedly operating a Chinese "secret police station" in Manhattan's Chinatown neighbourhood.
Lu Jianwang, 61, and Chen Jinping, 59, both New York City residents, face charges of conspiring to act as agents for China and obstruction of justice.
They are expected to appear in federal court in Brooklyn on Monday.
China has previously denied operating the stations, calling them "service centres" for nationals overseas.
Mr Lu of the Bronx and Mr Chen of Manhattan worked together to establish the first overseas police station in the United States on behalf of China's Ministry of Public Security, the US Department of Justice alleged on Monday.
The outpost was closed in autumn of 2022, the department said, after those involved became aware of an FBI investigation into the station.
"This prosecution reveals the Chinese government's flagrant violation of our nation's sovereignty by establishing a secret police station in the middle of New York City," said Breon Pearce, the top prosecutor in Brooklyn.
The stations are believed to be among at least 100 operating across the globe in 53 countries, including the UK and the Netherlands. And last month, Canada's federal police announced an investigation into two Montreal-area sites thought to be police outposts.
"The PRC's [People's Republic of China] actions go far beyond the bounds of acceptable nation-state conduct. We will resolutely defend the freedoms of all those living in our country from the threat of authoritarian repression," said assistant attorney general Matthew Olsen, from the Justice Department's National Security Division.
According to prosecutors, Mr Lu was closely connected to Chinese law enforcement, and was enlisted to help China with "repressive activities" in the US beginning in 2015, including harassing Chinese dissidents.
In 2018, he allegedly participated in efforts to push a purported Chinese fugitive to return to China, including repeated harassment and threats to the individual and his family, living in China and the US. And prosecutors said he was also enlisted to locate a pro-democracy activist in China. Mr Lu denied these actions when confronted by US authorities.
He and Mr Chen were questioned by authorities in October 2022, when the FBI conducted a search of the suspected station. Their phones were seized as part of the search and both men admitted they had deleted communication with an official from China's Ministry of Public Security who was allegedly directing their behaviour in the US, prosecutors alleged.
If convicted, both Mr Lu and Mr Chen face up to 25 years in prison.
Chinese embassies in the US and Canada have said the locations are "overseas service stations" opened during the pandemic to assist nationals abroad with driver's licence renewal and similar matters.
But human rights groups have accused China of using the outposts to threaten and monitor Chinese nationals abroad.
Last month, the Canada's federal force asked Chinese Canadians who may have been targeted by threats from "alleged Chinese police stations" to come forward.
"We're in the process of making sure the RCMP is following up on this and that our intelligence systems are taking this seriously," Canadian Prime Minister Justin Trudeau said.
FBI Director Christopher Wray said last November that his agency was monitoring reports of such stations, calling them a "real problem".
"To me, it is outrageous to think that the Chinese police would attempt to set up shop, you know, in New York, let's say, without proper co-ordination," Mr Wray said. "It violates sovereignty and circumvents standard judicial and law enforcement co-operation processes."
In a separate complaint unveiled by US officials on Monday, 34 officers from China's Ministry of Public Security were charged with using fake social media accounts to harass Chinese dissidents in the US and spread official Chinese government propaganda.
Prosecutors said all of the accused belong to an elite task force known as the 912 Special Project Working Group, whose purpose is to "target Chinese dissidents located throughout the world, including in the United States".
"As alleged, the PRC government deploys its national police and the 912 Special Project Working Group not as an instrument to uphold the law and protect public safety, but rather as a troll farm that attacks persons in our country for exercising free speech," US Attorney Peace said.
All 34 of these defendants are believed to live in China or elsewhere in Asia. (BBC)