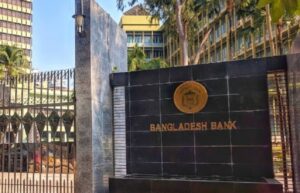 Sri Lanka has finally started paying back the $200 million it took from Bangladesh in a currency swap agreement in August 2021, more than a year and a half later than the original agreed date.
On August 17, Sri Lanka sent $50 million to Bangladesh, which is the first instalment of the payment, according to Md Mezbaul Haque, the central bank's spokesman.
The next instalment is expected in a fortnight, he said, without mentioning the amount that is coming.
"We are hopeful that the entire amount will be cleared by September," Haque agreed.
When the currency swap deal was agreed, Sri Lanka was supposed to repay the amount within three months.
Bangladesh lent the money to Sri Lanka in three instalments in 2021: the first tranche of $50 million was sent on August 19, the second instalment of $100 million 11 days later and another $50 million in September.
So, Sri Lanka was supposed to repay the amount by the end of 2021 with an interest rate of LIBOR + 2 percent.
LIBOR, the acronym for London Interbank Offer Rate, used to be the global reference rate for unsecured short-term borrowing in the interbank market and acted as the benchmark for short-term interest rates until June 30 this year. LIBOR has been replaced by SOFR.
As the island nation's economy plunged further into crisis, the repayment term was extended several times. Then in May last year, Bangladesh extended the term to September this year and the interest rate was fixed at LIBOR + 2.5 percent then.
The Central Bank of Sri Lanka has been paying the interest every three months and is now paying back the principal amount, according to Haque.
Sri Lanka's repayment comes as its embattled economy is staging a recovery.
The Central Bank of Sri Lanka expects the economy to resume growth this quarter after six quarters of contraction — faster than expected by many economists — while overseas remittances are surging and tourist numbers are rising, reports Reuters.
Bangladesh's economy though is in a much worse shape than when it agreed to lend the sum to Sri Lanka in May 2021, with the amount extendable to $500 million.
The reserves were at a record high then, enough to cover more than nine months' import. As of August 16, reserves stood at $23.14 billion, enough to cover a little over three months' import bill. (The Daily Star)