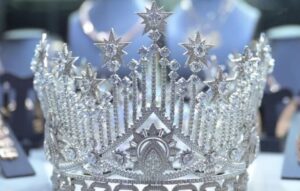 Miss Universe Organisation (MUO) has cut ties with its Indonesian franchise after several contestants alleged sexual abuse days before the pageant's crowning ceremony in Jakarta.
Contestants said finalists were unexpectedly asked to strip for "a body check for scars and cellulite" and some said they were photographed topless.
The US-based MUO said it was clear the franchise had not lived up to its brand standards, ethics, or expectations.
Jakarta police are probing the claims.
MUO also said it was also cancelling this year's pageant in Malaysia which is run by the same company, PT Capella Swastika Karya.
Miss Universe Organisation thanked the women that filed the complaints for their bravery and reiterated "providing a safe place for women " was its priority.
It said it was evaluating its policies and procedures to avoid similar occurrences and said there were no measurement or body dimensions requirements to join its pageants worldwide.
"In light of what we have learned took place at Miss Universe Indonesia, it has become clear that this franchise has not lived up to our brand standards, ethics, or expectations," MUO posted on Saturday night.
Miss Universe, which is now on its 73rd edition, is popular in South-east Asia, especially in Indonesia, the Philippines and Thailand, where winners go on to become celebrities and social media influencers.
Its owner Anne Jakrajutatip, a Thai transgender woman and media mogul, has sought to revamp the brand to make it more inclusive by allowing married women, transgender women and single mothers to compete.
Poppy Capella, Indonesia's franchise director said on Instagram that she had "never known, ordered, requested or allowed anyone who played a role and participated in the process of organizing Miss Universe Indonesia 2023 to commit violence or sexual harassment through body checking".
She also added that she was against "any form of violence or sexual harassment."
Indonesia's Ms Fabienne Nicole Groeneveld who won the contest to represent her country in the 2023 Miss Universe finals in November will compete with the organisation's support, MUO said. (BBC)